Tribes Honor Native WWI Servicemen at Powwow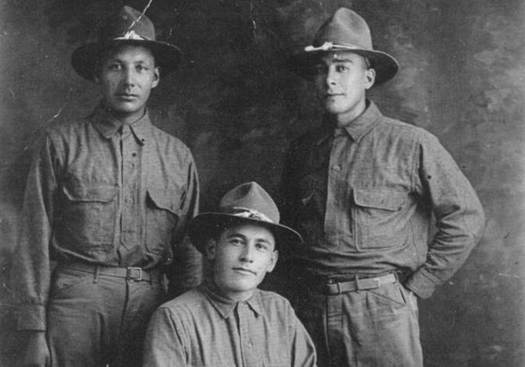 More than 350 Native Americans from tribes in North Dakota served in World War I. The three soldiers above are from the three affiliated tribes of Fort Berthold. (UTTC)
September 8, 2017
BISMARCK, N.D. – One hundred years ago, the United States joined World War I. From that point to the war's end in 1918, more than 350 Native Americans from tribes in North Dakota served.

At United Tribes Technical College's 48th Annual International Powwow this weekend, those servicemen are being honored.

Powwow committee chair Kathy Dye-Chapin says these men served the country before Native Americans were granted U.S. citizenship, which wouldn't happen until 1924. She says Native communities in North Dakota hold their veterans in high esteem.

"Especially with our powwows and anything in our Native communities, our veterans are highly respected, and when we do the powwows and the grand entries, they are the first to always come in," she says.

The Powwow starts today and will honor veterans on Sunday. More than 12,000 Native Americans served in World War I. Per capita, Native Americans have the highest involvement in the U.S. military of any population.

The Powwow also includes contests in singing and dancing and events known as grand entries, which involve parades of dancers. The theme for this year's Powwow is "communities - stronger together" and Dye-Chapin says she wants everyone to come out - Native and non-Native alike.

"This is open to the public," she adds. "We want them to come. We want them to experience our culture. We want them to see, like our veterans here that have served 100 years ago, that we honor them."

United Tribes Technical College is operated by five tribes: Sisseton, Spirit Lake, Standing Rock Sioux, the three affiliated tribes of Fort Berthold, and the Turtle Mountain Band of Chippewa Indians.
Eric Tegethoff, Public News Service - ND