River Flotilla Urges Policymakers to 'Free the Snake'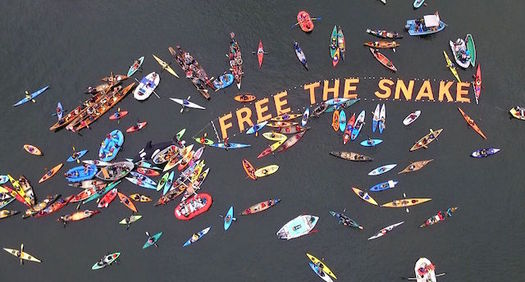 This is the third year of the Free the Snake Flotilla. Last year, around 350 people paddled out to oppose four dams on the river. (Free the Snake Flotilla)
September 8, 2017
CLARKSTON, Wash. – Floaters in kayaks, canoes and boats are launching today to call for the removal of four dams on the lower Snake River. The third annual "Free the Snake Flotilla" takes place today and tomorrow, to push policymakers to get rid of the dams in order to help save wild and endangered salmon and steelhead.

Julian Matthews is with Nimiipuu Protecting the Environment, a nonprofit that focuses on the treaty rights of the Nez Perce Tribe. He says once again, fish runs were very low this year, which hurts tribes and violates their right to fish on the Snake.

"What we're trying to do is restore the river, particularly the Snake, to more of a natural state, where the salmon and eels or other kind of species, can live and travel along the route without any hindrances," he explains.

Supporters of the dams say they provide a portion of Northwest hydropower and make barging possible on the river, which helps farmers. The event starts Friday evening in Clarkston, Washington.

Opponents of the lower Snake River dams are concerned about a bill introduced by Washington Congresswoman Cathy McMorris Rodgers. A district court judge has told federal power managers to seriously consider dam removal as an option for saving salmon, but House Resolution 3144 would stretch out the timeline for conducting a study on the impact of dam removal.

Sam Mace, Inland Northwest director of the group, Save Our Wild Salmon in Spokane, says the bill pulls the rug out from a public process going on right now to look at alternatives.

"If we're going to solve this problem, if we're going to restore our salmon and meet the needs of river communities, it's time to quit kicking the can down the road and actually deal with the issue," he says. "And what this bill would do is just punt a solution."

David Cannamela is a retired fisheries biologist, who says wild salmon and steelhead have been pushed to the brink of extinction - but can rebound on the Snake.

"Dam removal has to happen for these fish to recover," he states. "And then the stakeholders - that's all of the stakeholders in the basin - have to collaborate to replace whatever benefits or perceived benefits these dams provide."
Eric Tegethoff, Public News Service - WA