Albuquerque Groups Work to "Give Peace a Chance"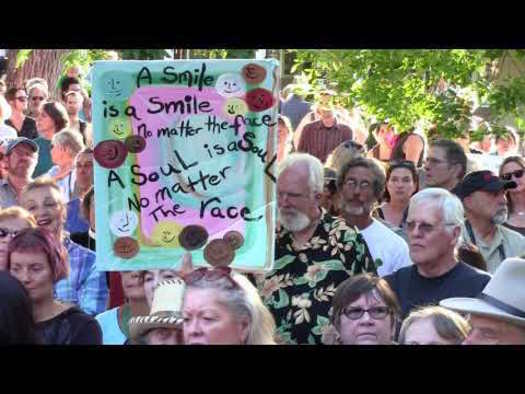 A rally and forums are planned in Albuquerque as part of the grassroots Campaign Nonviolence Week that continues through Sunday across the country. (ourshelves.org)
September 21, 2017
ALBUQUERQUE, N.M. – Thursday is the United Nations' International Day of Peace, and groups in New Mexico are taking part.

A forum tonight by the Albuquerque Center for Peace and Justice is just one of the activities of Campaign Nonviolence Week.

Campaign Nonviolence advocates for people across the globe to connect the dots among war, poverty, racism, climate change, and an international epidemic of violence.

Rosemary Blanchard teaches courses about peace at the University of New Mexico and says it's still possible for people to show respect for each other.

"Our group felt that it was really important that we tap into the multicultural and compassionate part of Albuquerque, and encourage people to come out in their most positive light," she states.

The forum starts at 5:30 p.m. at 202 Harvard Drive Southeast in Albuquerque. And on Saturday, a Peace Rally starts on Tulane Street at 1:30 p.m.

Campaign Nonviolence Week continues through Sunday, with vigils and marches to promote nonviolence in cities and towns across the country.

The U.N. General Assembly established the International Day of Peace in 1981. Two decades later, the Assembly unanimously voted to designate the day to promote nonviolence in general, and ceasefires in war zones.

Blanchard says she's devoted her life to the cause of peace and believes in this country, the current divisions need to be viewed through a longer lens.

"This administration does cause alarm – the things that have led up to this administration cause alarm," she states. "And I encourage people to look at this as a long distance run, not a sprint."

Blanchard maintains much of the violence and disrespect in America is because many people feel alienated, and says events like the International Day of Peace are important reminders to be better neighbors.