Public Comment Period Closes for Clean Water Rule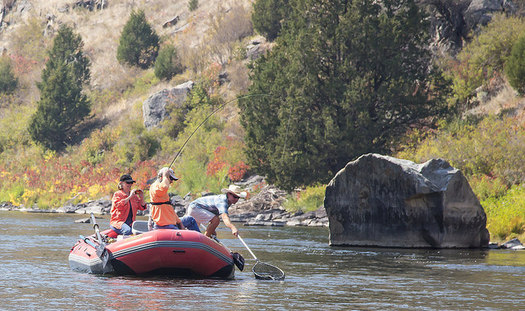 Advocates for the Clean Water Rule worry that its repeal could endanger fishing in Montana. (Bob Wick/BLM)
September 27, 2017
HELENA, Mont. - The public has one final day to submit comments on the 2015 Clean Water Rule, which clarifies where the Clean Water Act applies.

The rule is a safeguard put in place during the Obama administration to protect the country's rivers, streams and drinking-water supplies. However, current Environmental Protection Agency chief Scott Pruitt has said the rule has to go to remove onerous regulations on businesses and farms.

Dave Chadwick, executive director of the Montana Wildlife Federation, said the rule took years to develop through many public meetings and a lot of scientific data.

"It's all been thrown out in a couple of months by an oil-and-gas industry lawyer from Oklahoma," he said. "We really need to have some perspective here about whose interest is the director of the EPA looking after here? And it's increasingly clear that he's not looking after the interests of the American people, fish, wildlife and all the other values that depend on clean water."

The Clean Water Rule protects the headwater, rain-fed, and seasonal streams of drinking water sources for 117 million, or about one in three Americans, according to the EPA. Chadwick said it also protects the Montana waters where folks enjoy world-class fishing. People can go online to regulations.gov to comment on the rule.

David Brooks, executive director of Montana Trout Unlimited, said he is concerned that repealing the rule already was a foregone conclusion. He said Pruitt put out a video with the National Cattlemen's Beef Association, steering people's comments on the rule.

"Rather than direct the public to the EPA's website and docket to comment," Brooks said, "that video directs people to the National Cattlemen's Beef Association website, where they have a pre-written comment to be submitted that opposes the Clean Water Rule."

Repealing the rule is the first in a two-step process. Chadwick said the EPA will have to submit a new rule for public comment, leaving protections for clean water in limbo.

"Not only is that going to mean major chaos for regulated industries, obviously major chaos for fish, wildlife, everything we value, but it's also going to take time to develop that new definition," he said. "So, in the meantime, our water quality is going to be at risk."

The comments page is online at regulations.gov.