Farm-to-School Month in MN; Not Just for Apples Any More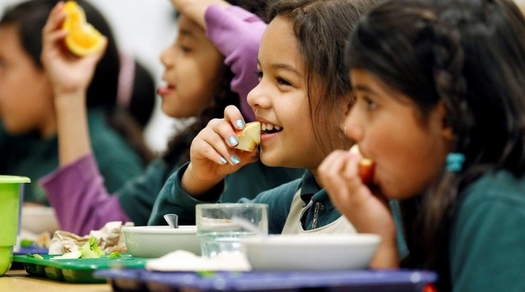 More schools are using locally grown food. (U.S. Department of Agriculture)
October 3, 2017
MINNEAPOLIS – October is national Farm-to-School Month. Policymakers in Minnesota have been building the relationship between farmers and K-12 students for about 10 years, and it's paying off.

Erin McKee, farm-to-institution director for the Institute for Agriculture and Trade Policy, says at a time of low commodity prices, schools are proving a good and growing market for farmers.

"They're purchasing more and they're purchasing a greater variety of products, so it used to maybe be that they would purchase apples, but now they're using local meats, they are using local cheeses and bread in addition to fruits and vegetables," she explains.

McKee says the institute has begun promoting the idea in preschools, with a focus on Head Start. That's because studies show low-income kids are disproportionately affected by diet-related diseases.

Dietitian Katie Costello, also with the institute, says children who are overweight tend to be overweight as adults. She says the best way to address the obesity epidemic is prevention.

"So by getting children - young children - exposed to fruits and vegetables and sort of building an understanding of how food is grown, we hope that influences their taste preferences for the rest of their lives," she says.

Costello has been training teachers and kitchen staff and developing curriculum about healthy eating.

McKee says she supports legislation that would bolster the relationship between farmers and schools by helping farmers figure out how to navigate schools' supply chains. It's just common sense, she says, and a good way to help communities.

"That extra money is an investment in the local economy," McKee adds. "There are studies that show that for every $1 that you're spending on farm-to-school product, you're actually generating an additional $2.16 of local economic activity. So we believe that it's a sound investment to make in our local economy to give a little extra money to those local farmers."

The institute is encouraging schools to apply for state grants that can help them shift to more local food. The deadline is November 16.

More information is available from the Minnesota Department of Agriculture.