Keeping Ohioans Safe, Sound and Saving Money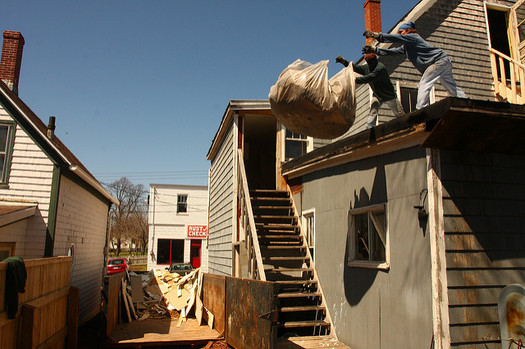 More than 370,000 Ohio homes have been weatherized through the Home Weatherization Assistance Program since 1977. (Martin Cathrae/Flickr)
October 16, 2017
COLUMBUS, Ohio -- October is Energy Action Month, and agencies around Ohio are showcasing the work they do to help keep families warm and safe.

Dozens of community and local government organizations deliver weatherization services to lower income households in Ohio through the Home Weatherization Assistance Program. One is the Corporation for Ohio Appalachian Development, known as COAD, where Nicole Peoples, the utilities program director, said energy conservation measures address families' health, safety and comfort, while lowering their utility bills.

"On the gas side of efficiency, we have saved 30 percent in consumption," Peoples said. "Overall, when we take into the electric side consideration, we're typically saving a homeowner around $400 annually or more."

Weatherization providers are hosting workshops on energy efficiency, demonstrations and open houses this month. On October 30, COAD will also celebrate Weatherization Day with an event in Coshocton.

As weatherization director for Community Action Partnership in Dayton, Craig Idle is proud of the services they provide to help struggling families. He explained it begins with an inspection to check whether the home's electrical system needs an upgrade.

"If we have to replace a furnace or even a power-vent water heater, to make sure it'll withstand all that," Idle said. "Besides all your health and safety measures, you have attic insulation, sidewall insulation; looking for any air leakages in crawl spaces, basements, attics."

According to the U.S. Energy Information Administration, low income households spend a higher percentage of their incomes on electricity and heat. And Idle added Energy Action Month and Weatherization Day are important for highlighting the value of energy efficiency.

"We're saving money for these people, so that is important that everybody keeps working together to keep this program going, because this is a good investment program," he said. "It provides for everybody."

In the past four decades, more than 370,000 homes in Ohio have been weatherized by the Home Weatherization Assistance Program.