Dow Chemical Protests: 50 Years Ago Today in Wisconsin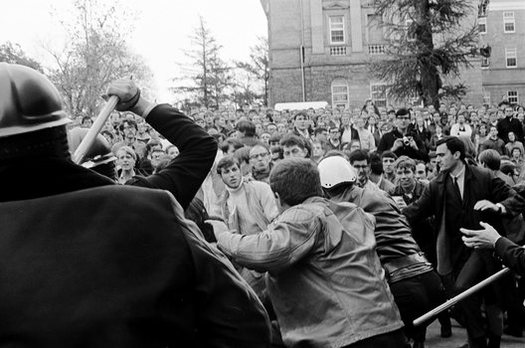 The Dow protests on the University of Wisconsin-Madison campus on Oct. 18, 1967, marked the first time in the nation's history that an anti-Vietnam War protest on a major U.S. campus turned violent. (John Wolf, UW-Madison)
October 18, 2017
MADISON, Wis. - Fifty years ago today, Wisconsin made national headlines when a student sit-in against Dow Chemical Co. became violent.

Students were protesting the company's recruiting presence on the University of Wisconsin-Madison campus because Dow was the manufacturer of Napalm, a highly flammable gel used in the Vietnam War. The sit-in turned violent when police in riot gear threw tear gas and started to remove students forcibly with billy clubs.

The event garnered national television coverage since it was the first time an anti-war demonstration on a major U.S. campus turned violent.

UW Communications has just released a multimedia presentation recalling the day. Meredith McGlone's media team at UW-Madison created the piece, which she said represents the differing points of view regarding the Dow protests.

"If you're going to approach a topic that certainly was very controversial 50 years ago (and) remains somewhat controversial today, we really needed to do as good a job as we could portraying a broad diversity of viewpoints," said McGlone, campus director of news and media relations.

The presentation, called "A Turning Point," is online at 1967.wisc.edu. The Dow protest disrupted the campus for days as those opposed to the war clashed with supporters of the war and Dow.

The Dow Chemical protests marked a very difficult time in the state, the nation and on the Madison campus. McGlone said the presentation captures a lot of the drama.

"We believe," she said, "that part of the role of University Communications is to not just communicate what's happening on campus today, but to share significant moments in campus history and help make sure that the folks who are here today have some understanding of what came before."

McGlone said plenty of visual material is preserved in the UW archives regarding the Dow protests, but this presentation also has a number of never-before seen photographs.

"We heard from two people who were then graduate students who said, 'Hey, we were outside and inside the Commerce Building that day. We took all these pictures. They've never been published. Here ya go! You can do what you want with them!' That was completely unexpected," she said.

Nearly 50 students were hospitalized that day, including protesters, supporters and bystanders.

The multimedia piece is online at 1967.wisc.edu.