What Grade Would You Give Your Lawmaker?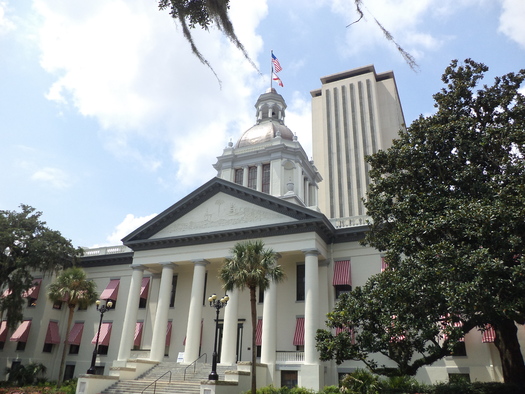 As an early 2018 legislative session looms, a "People First Report Card" reveals where Florida lawmakers stand on some of the issues. (Florida Capitol/Wikimedia Commons)
October 30, 2017
TALLAHASSEE, Fla. -- Florida lawmakers are preparing for the upcoming early legislative session, and those who follow them know it's hard to keep track of the hundreds of bills filed each year. One way to hold them accountable is to monitor the report cards released by some organizations.

Progress Florida launched its "People First Report Cards" to help Floridians track how their lawmakers voted on such issues as the economy, gun safety, public schools and the environment - 20 bills in all, including the education and state budgets. Damien Filer is Progress Florida's political director.

"It's a very polarized legislature," Filer said; "and unfortunately, in our estimation, a legislature that is really not, for the most part, representing the interest of the people of Florida."

He said to achieve an "A" grade on the Report Card, lawmakers had to consistently vote to put "people first" instead of other, powerful interests. Only 31 of 158 members of the GOP-controlled Legislature received "A" grades. And there's one fewer lawmaker with a perfect score after Friday's resignation of incoming Senate Democratic leader Jeff Clemens.

The grades are online at FloridaReportCard.com.

The grades were based, in part, on whether lawmakers opposed the state budget. Filer said Progress Florida believes it was crafted to support wealthy corporations at the expense of hardworking Floridians. He added the grades favored lawmakers who stood up for local public schools, Everglades restoration and the rights of local communities to raise their own minimum wages.

"We had three times as many 'F's as we did 'A's and very little in between," he said. "So, it's not surprising, I guess, in this political climate that we find ourselves in these times."

Filer said the report card is designed to help people decide whether their concerns are being represented in Florida's capital. And the group will be watching again closely during the new legislative session, starting January 9.