Could GOP Tax Bill Hurt Washington State's Most Vulnerable?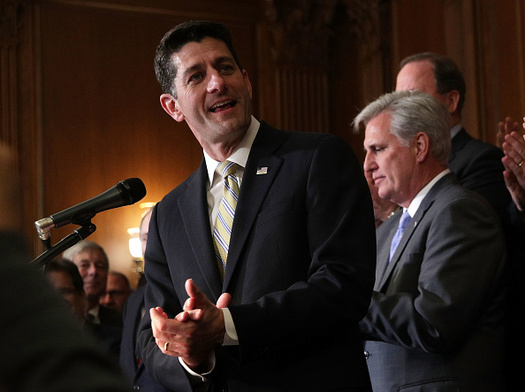 The U.S. House-passed version of the GOP tax bill could lead to $25 billion in cuts to Medicare next year. (Alex Wong/Getty Images)
November 17, 2017
AUBURN, Wash. – On Thursday, the House approved the GOP's efforts to overhaul the nation's tax code. But some health professionals are concerned the bill will lead to cuts in programs like Medicare.

The changes to the tax system are estimated to increase the deficit by $1.5 trillion in the next decade, and that could force the government to slash $25 billion from the Medicare budget next year, according to the Congressional Budget Office.

A cut that large would have major impacts on Medicare recipients in Washington state, says Darryl Johnson, a long-term care worker in Auburn whose client relies on Medicare.

"She's a double amputee," he says. "She uses pretty much all of the services. She uses Hopelink to get to the doctor appointments and to dialysis, where she goes three days a week. All her equipment is through Medicare."

Because of another law, the "Pay-As-You-Go Act," the government must make up for any increase in the deficit. If the tax bill passes, cuts could be waived, although that would require 60 "yes" votes in the Senate. The Senate's version of the tax bill could be voted out of committee as soon as Friday. Its supporters say tax cuts will lead to faster economic growth.

The Senate bill would also end the individual mandate to buy health insurance, essentially repealing the cornerstone of Obamacare.

Johnson, who is a member of SEIU 775, says he and his union saw this coming after other attempts to repeal the Affordable Care Act. He says scrapping Obamacare and cutting Medicare would also mean fewer workers in the health-care field - and big changes for his client.

"This is just another attack on Obamacare and if this thing happens, she would go in a nursing home," he explains. "And we don't want that."

Repealing the individual mandate would lead to more uninsured Americans and for those still insured, a hike of about 10 percent a year in premium costs, according to CBO analysis.
Eric Tegethoff, Public News Service - WA