Trump Administration Scraps Environmental Rules for NM Border Wall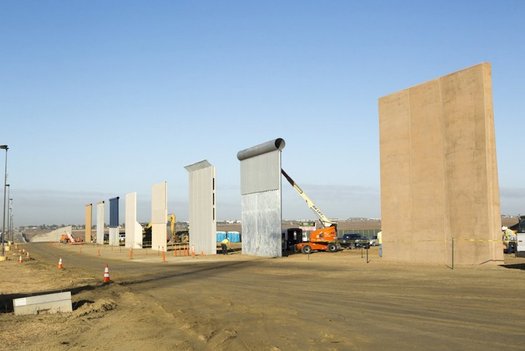 Prototypes of President Trump's proposed border wall were exhibited last October outside San Diego. (texastribune.org)
January 24, 2018
LAS CRUCES, N.M. – The U.S. Department of Homeland Security says it will waive more than three dozen laws and regulations – most of them requiring environmental review – to move forward with the first phase of construction of an enhanced border wall west of Santa Teresa.

The Center for Biological Diversity sued the administration over the wall last year and the group's senior attorney, Brian Segee, says the Center is considering further legal action over the new waiver.

Segee says the current vehicle barrier at that location is serving its purpose.

"It stops cars and trucks from coming over the border, but a deer or mountain lion or a jaguar can still pass, and moving from a vehicle barrier to a border wall or border fence is essentially new border wall," he points out.

The Trump administration says the area's existing vehicle barriers need to be replaced with 20 miles of bollard wall because the El Paso Sector is an area of "high illegal entry."

Segee argues the new border wall will be an environmental disaster, and won't do anything to stop illegal drug or human smuggling.

"It's pure symbolism," he stresses. "There's no there there with the border wall, and it's just political symbolism and both parties just really misunderstand the borderlands region."

A group of New Mexico state lawmakers also said this week it will back legislation that would prohibit selling state land to build a wall on the border with Mexico, arguing it would be a setback for a state that is trying to boost trade and has strong cultural ties to Mexico.



Roz Brown, Public News Service - NM