What Would a Real PEIA Fix Look Like?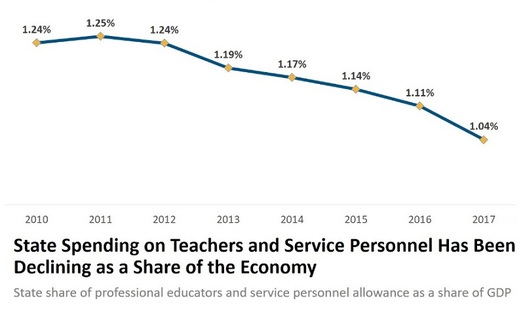 West Virginia spends about 20 percent less on school workers as a proportion of the state's Gross Domestic Product than it did eight years ago. (W. Va. Center on Budget and Policy)
March 5, 2018
CHARLESTON, W.Va. — Striking teachers are angry about rising health care premiums and eroding benefits from West Virginia's Public Employee Insurance Agency. But what would a real PEIA fix look like?

School workers, who are away from their classrooms for an eighth day today, say they want more than a temporary premium freeze and a task force. According to the West Virginia Center on Budget and Policy, PEIA needs a regular stream of new revenue worth $50 million a year.

Perry Bryant, former longtime PEIA finance board member, said past funding didn't match the wildfire pace of medical inflation.

"This goes back a number of years. There were years under Gov. Tomblin's administration where they gave no increases," Bryant said. "That's what truly created the crisis, is this chronic under-funding of PEIA."

So far, legislative leaders have opposed new taxes. One proposal to increase gas severance taxes was quickly shot down by opponents arguing that the industry pays less in neighboring states.

Bryant said given the high rate of medical inflation, any long-term fix is going to have to include cost containment. Supporters of increasing taxes on cigarettes, alcohol and sugary drinks argue these could nudge people toward healthier choices. But Bryant said those wouldn't be enough.

"Sugary soft drinks or tobacco, or alcohol or severance-tax increases, they are going to fill in the gap," he said. "But controlling health care costs is the real solution."

Teachers are also voicing frustration with the Senate's handling of the pay raise in House Bill 4145. Confused voting ended with that body rejecting a 5 percent raise, changing it to 4 percent and sending that into a conference with the House.