NC Lawmakers Consider Requiring No Training for Concealed Carry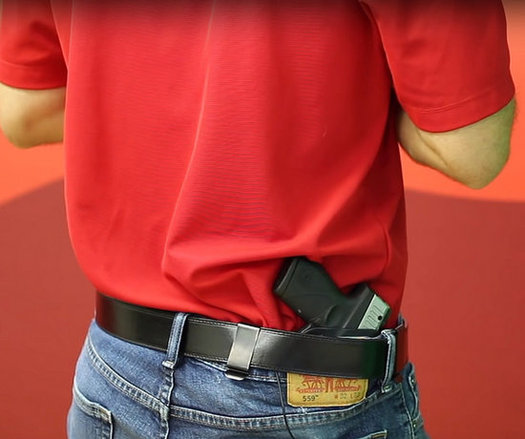 Young people in North Carolina are planning school walkouts on March 14, even as state lawmakers consider a bill that would weaken the state's concealed-carry requirements. (Clinger Holsters/Flickr)
March 5, 2018
RALEIGH, N.C. - Just as young people are leading the charge to change the nation's gun laws, North Carolina lawmakers are poised to pass a bill that would allow adults with no training and no background checks to carry a concealed weapon.

House Bill 746 has already passed initial readings in the Senate and House, and is expected to come up for a vote in May. Becky Ceartas, executive director at the group North Carolinians Against Gun Violence, said people should be alarmed.

"Students and their parents and community at large is concerned about it. Nobody wants somebody with no training, no background check, as young as 18 years old, carrying a hidden, loaded weapon in public," Ceartas said. "Our concealed-carry weapons permitting system works, and it's something that should remain in place."

This month, North Carolina teens will join other activists to protest against current state and federal gun laws.

Ceartas said her group is supporting marches in Raleigh and Charlotte on March 24. Other marches are planned in Asheville and other cities. A National School Walkout planned by the Women's March's Youth EMPOWER program, is set for March 14.

The Network for Public Education has also declared April 20 a National Day of Action against gun violence in schools, on the anniversary of the 1999 Columbine High School shooting. Executive Director Carol Burris said while her organization was founded to preserve and strengthen public schools, it now finds itself working to secure the safety of the people in the buildings.

"We know that there is always a straw the breaks the camel's back. There comes a point in time where people rise up and they say, 'No more,'" Burris siad. "And this is that moment with gun violence. "

Ceartas added the Parkland shooting has ignited an organic drive and determination in students that she believes is a display of civic engagement at its best.

"They're organizing on their own," Ceartas said. "And it's really exciting to see the groundswell of support, because they know this issue impacts their lives, their communities, and want to make sure that everyone is safe."

The American Civil Liberties Union has pledged to defend students' rights to peacefully protest at the March 14 and 24 events. Several North Carolina school systems have said they won't punish kids for walking out of school, other than recording an absence for the day.