NC Cities Urged to "Plug In" to Electric Cars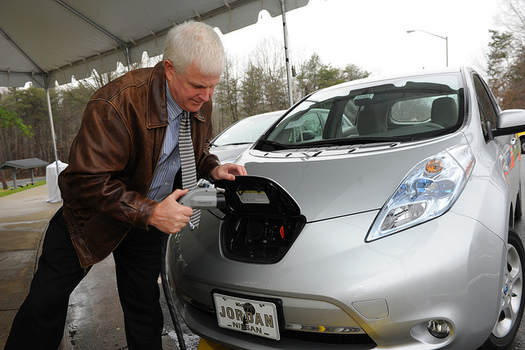 Charging stations like this one in Durham make it easier for drivers to keep on rolling in their electric vehicles. (NCDOTcommunications/Flickr)
March 7, 2018
RALEIGH, N.C. — Sales of electric vehicles are on the rise - up 38 percent in 2016 and another 32 percent last year.

A new report by the Environment North Carolina Research and Policy Center and the Frontier Group offered strategies for cities to meet the new demands for charging stations for these vehicles. Drew Ball, state director with Environment North Carolina, said meeting that demand is part of the evolution of cleaner transportation.

"We're in a transition phase right now," Ball said. "And so, the number of EVs on America's streets, while it's at an all-time high, it's going to continue to grow. Cities really need to be ready to handle that."

The report estimated Raleigh could see 20,000 EVs on the road by 2030. It recommended cities support private investment in publicly accessible charging stations, offer charging at government buildings, and develop programs to encourage people to install charging stations at their homes.

Some cities, including Indianapolis, also have seen success with car-sharing services that use EVs.

The Natural Resources Defense Council has estimated 60 percent of the carbon pollution from the transportation sector comes from passenger vehicles. Installing a charging station for residential use costs several hundred dollars, and public stations cost a few thousand. But Ball said the investment will pay off in the long term.

"What we see is, without the reliance on fossil fuels, we have healthier communities, we're not contributing to climate change," he said. "But it's also really an economic win for these communities, as they transition their city fleets over to electric vehicles and increase the charging stations."

And manufacturers are making progress in the range EVs can travel. The Nissan Leaf can go 150 miles on a single charge, the Chevy Bolt has up to a 200-mile range, and the Tesla Model 3 can travel more than 300 miles, according to those companies. The industry is also working on batteries that take as little as six minutes to fully charge.