Groups Urge Swift Action to Protect Threatened Wildlife Species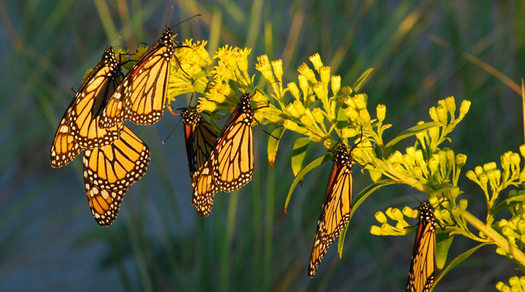 The eradication of milkweed in South Dakota has reduced food for monarch butterflies, now included on the endangered species list. (nature.org)
April 2, 2018
PIERRE, S.D. – Wildlife experts say about one-third of all wildlife species in the United States are in decline or vulnerable – which means that without intervention, they could face extinction.

A new report, "Reversing America's Wildlife Crisis," outlines the impending problem and also a path to recovery. Conservationists like Chris Hesla, executive director of the South Dakota Wildlife Federation, say it's time to step up efforts to protect species threatened by habitat loss, invasive species and disease.

"This is wildlife that aren't hunt-able," says Hesla, "like the songbirds, bees, pollinators, things like that. Pollinators, like the butterflies and bees, are important to life because everything needs to be pollinated before it can grow."

The report says 150 U.S. species are already extinct and 500 more have not been seen in recent decades. South Dakota's state Wildlife Action Plan identifies just over a hundred animal species as needing greater protection.

Bruce Stein is chief scientist and associate vice president with the National Wildlife Federation. He says it's much easier and cheaper to prevent animals or plants from ending up on the endangered list. He says the report looks at the huge diversity of U.S. species and identifies those facing the greatest conservation need.

"There's in excess of 200,000 different animals, plants and other organisms that have actually been documented by scientists, and there's probably even more than that," says Stein. "The problem is, is that many of them are not doing well."

Threatened mammals in South Dakota include the swift fox and northern river otter; the sturgeon chub is a vulnerable fish and the osprey is an "at-risk" bird.

Monarch butterflies traveling through South Dakota from Mexico each summer have declined dramatically in recent decades because their main source of food – milkweed – has been eradicated due to land-use changes and pesticides. Hesla says it's important to minimize unnecessary damage to the habitat of threatened species.

"Hopefully in the future, animals won't be listed on the endangered species list, because we'll have prime habitat to keep their species alive," says Hesla.

Legislation in Congress calls for money from an existing tax paid to extract resources from public land, to boost state wildlife conservation efforts. The "Recovering America's Wildlife Act" would dedicate $1.3 billion a year – or $16 million annually for South Dakota – without any tax increases or new fees.