Flat Tax a Fair Tax?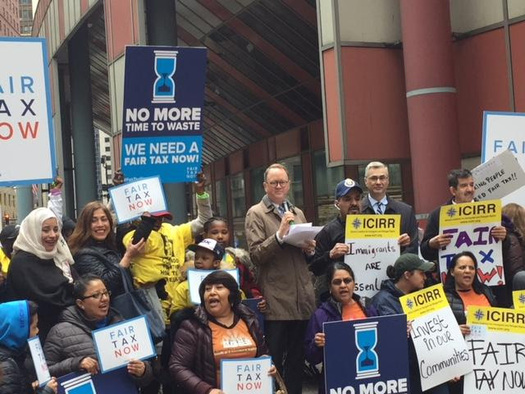 Illinois is one of eight states with a flat income-tax rate. (ctbaonline.org)
April 12, 2018
SPRINGFIELD, Ill. – As Americans are dropping their checks in the mail to pay Uncle Sam, advocates in Illinois are calling for a fair tax for the state.

Illinois is just one of a handful of states in the nation with a flat tax. On Tuesday, Republicans in Springfield united against the idea of converting the flat income tax rate into a graduated one, and nearly all of the GOP House members signed a resolution denouncing a tax-system revamp.

Ralph Matire, executive director with the Center for Tax and Budget Accountability, believes the issue should be put to voters. He says a flat income tax means a millionaire pays the same as a minimum-wage worker, and that puts an unfair burden on people who are struggling to make ends meet.

"Since 1980, when you adjust for inflation, 90 percent of working Americans have actually seen their incomes decline," says Matire, "whereas the wealthiest 10 percent in America got 108 percent of all growth and income."

Supporters of a flat tax rate say it encourages wealth because top earners aren't punished with higher tax rates.

The resolution approved by the GOP this week would carry no weight of law even if it were approved by the House. Democrats call it a political stunt in an election year.

Matire thinks there's momentum across the country to take some of the tax burden off of the lower and middle classes.

"When the federal income tax was first imposed in the early 1900s, it only applied to the wealthiest 4 percent of all Americans," says Matire. "It was truly designed to create a fair tax system right from the get-go."

The Illinois individual income tax rate is 4.95 percent. There was an effort in 2016 to do away with the flat tax, but lawmakers rejected the idea.
Veronica Carter, Public News Service - IL