Records: Almost 400 Safety Violations in Offshore Oil Facilities Since 2015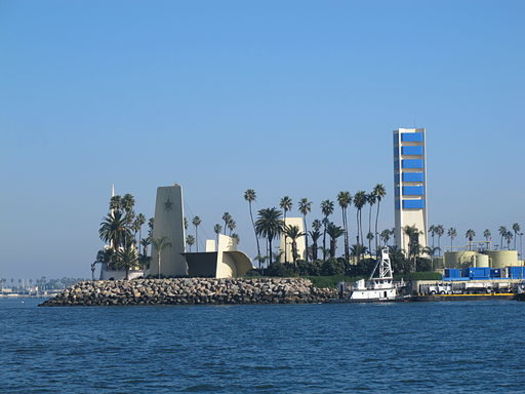 Oil facilities on several man-made islands off of Long Beach and Seal Beach have racked up 293 state violations since 2015.(Donielle/Wikimedia Commons)
April 12, 2018
LONG BEACH, Calif. – Offshore oil operations in southern and central California have racked up almost 400 violations over the past three years – according to an examination of public records done by the Center for Biological Diversity.

The group's research showed that regulators found major corrosion on multiple aging offshore drilling platforms, many of which date to the 1960s. Records also show that four offshore drilling islands co-owned by the city of Long Beach have a number of missing or failed well-integrity tests.

Steve Jones, media specialist for the Center for Biological Diversity, says the operators need to make repairs to avert a catastrophic blowout.

"And we do think that there's criminal neglect of public safety going on in the offshore-drilling system in state waters right now," says Jones.

A spokesman for the state Division of Oil, Gas and Geothermal Resources says the well-head corrosion issues have been resolved at Platform Eva off of Huntington Beach and Platform Esther off of Seal Beach, and notes that stepped-up enforcement led to the discovery of the violations. But the agency is still working to verify that mechanical-integrity tests have been completed and passed at the offshore islands in Long Beach.

A spokeswoman for California Resources Corporation, which co-owns those facilities, says the company believes it is in compliance.

Jones says in 2015 a severely corroded pipe burst on the beach north of Santa Barbara, spilling 120,000 gallons of crude. And the state is getting ready to spend $100 million to clean up two platforms left to rot after their owners declared bankruptcy.

"We're going to see a lot more problems in the years to come if the state doesn't take this seriously and start decommissioning some offshore infrastructure that is at the end of its useful life," says Jones.

The safety violations in this report are all in state waters and are not related to oil platforms in federal waters off the coast of California.

Earlier this year, President Donald Trump lifted an Obama-era ban on drilling in almost all federal waters. Lease sales for new drilling will begin in California next year.
Suzanne Potter, Public News Service - CA