MO Residents Fight for Local Control in Regulating CAFOs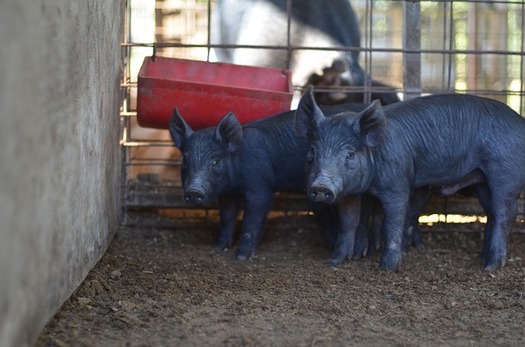 CAFOs house large numbers of pigs, chickens, cows or other farm animals in what are described as "confinement buildings." (Pixabay)
April 18, 2018
JEFFERSON CITY, Mo. - Missouri has seen a rise in concentrated animal feeding operations or CAFOs, whether they produce cows, hogs or chickens. Now, residents and environmental groups are concerned about a bill they say will take away local governments' ability to put public-health protections in place.

House Bill 1614, sponsored by state Rep. Bill Reiboldt, R-Neosho, would prevent cities and counties from creating or enforcing ordinances regarding "seeds, fertilizers or soil conditioners." Reiboldt has said he wants those rules to come only from the Missouri Department of Agriculture or the federal government.

Fred Williams, a Tipton farmer fighting a proposed hog CAFO near his home, said the bill gives CAFOs very little liability, even when it comes to managing animal waste.

"Their manure is not considered a source of pollution until the pollution occurs," he said. "So, that's of huge concern, you know, especially if my property borders next to a CAFO or next to a property that is spreading manure for fertilizer."

The Missouri Department of Natural Resources will hold a public hearing about a proposed hog facility starting at 6 p.m. today at the Tipton Country Club.

Williams said it's the people closest to the community who know what's going on, so local governments would be better able to protect their residents from any negative CAFO impacts. In his area, for instance, he said a number of sinkholes and springs can be vulnerable to excess pollution. The county could set rules about where factory farms can spray manure.

"It's easy for pollution to get through the topsoil into our groundwater," he said. "With setback distance, you have to stay so many feet away from drain tiles and wells, and property lines, creeks and things of that nature, just to protect our water."

State law currently calls for a distance of 50 feet between someone's property line and where a CAFO can spray manure. In 2001, the Environmental Protection Agency found that states with higher concentrations of CAFOs have about 20 to 30 water-quality issues per year because of manure-management issues.

The text of HB 1614 is online at house.mo.gov.