New Data Shows Albuquerque Evictions Higher Than U.S. Average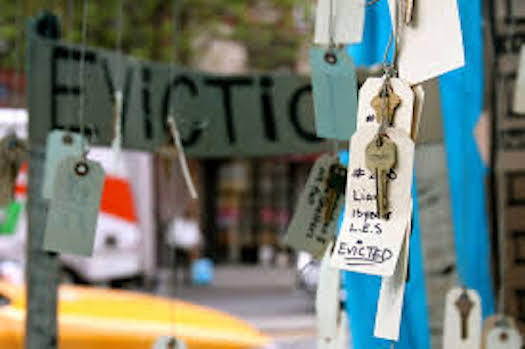 New data form the Eviction Lab project shows an average of six people in Albuquerque were evicted every day in 2016. (nonprofitquarterly.org
April 23, 2018
ALBUQUERQUE, N.M. — New data from the Eviction Lab project shows that most evictions occur in the south and southeast portions of the United States, but Albuquerque's evictions in 2016 were higher than the national average.

The project examined more than 80 million records going back to 2000, and found that in 2016, four eviction notices were filed every minute. Media Lab research specialist Adam Porton said even though rents are lower in cities such as Albuquerque, eviction rates are higher than in many large cities.

"In 2016, 4.72 percent of families were evicted, and that's about 2 percent higher than the national average," Porton said. "To put it a different way, that's about six people every single day getting evicted in Albuquerque."

By highlighting the housing affordability crisis, Eviction Lab researchers hope social scientists, journalists and policy makers will take a deeper dive to identify causes and their solutions.

Porton said the loss of housing can lead to other social problems and can make it harder for those evicted to find housing in the future.

"Maybe you can find temporary housing, stay with a friend or relative, maybe you end up homeless for a period of time," he said. "It means you might lose your job if where you end up is too far from where you have to work. Your children might have to move schools, and it takes a toll on every aspect of family life."

The data shows that in 2016, 2.3 million people were kicked out of their homes - an average of more than 6,300 Americans per day.

Porton observed Americans were alarmed by the enormous number of foreclosures at the height of the Great Recession 10 years ago, but noted that evictions and their connection to poverty don't get the same attention.

"If I was a citizen of Albuquerque or on the city council or a community advocate," he said, "I'd find out about what policies are in place regarding tenant/landlord law that could be at play, what social safety-net programs are going on."

Porton said the affordable housing crisis in the U.S. has pushed millions of poor, working families to the brink of eviction because the majority spend 50 percent of their income on housing costs, while 1-in-4 spend more than 70 percent of their income on rent and utility payments alone.