Security Officers to State: "Don't Roll Back Standards"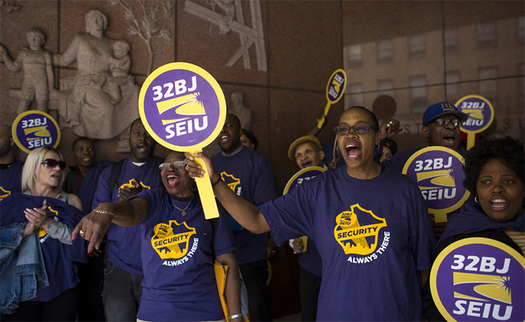 Security workers say lowering standards for contractors would threaten workers' gains and reduce safety. (SEIU 32BJ)
May 14, 2018
NEW YORK — Workers, union officials and lawmakers are calling on New York's Office of General Services to maintain high standards in the bidding process for security and fire-safety contracts.

After 9/11, in the name of safety, the state raised the standards that companies must meet when bidding for security and fire safety contracts. That in turn created higher-quality jobs for security workers across New York.

But Dennis Johnston, vice president at Service Employees International Union Local 32 BJ, said lowering the standards for contractors threatens the progress that workers have made.

"This solicitation out of OGS would really undermine everything that we've struggled for," Johnston said; "to raise standards, provide for quality health care, good jobs for working New Yorkers, and also safety for the tenants in the buildings that are secured by these officers."

OGS said the new standards were instituted in part to meet the state's requirement for awarding 30 percent of contracts to minority- and women-owned enterprises, or MWBEs.

But the union said there are MWBE security contractors that have the experience and capacity to meet the higher standard. And Sabrina Ladson, a security officer at the Department of Motor Vehicles, said she believes lowering the standards for new contracts will effect everyone.

"Once they start messing with our contracts - whether you're a new hire or whether you've been here forever - one goes down, we all go down," Ladson said. "We're well trained, we're well experienced, we've earned our right to be here and we don't want to go backwards."

She added that good pay and benefits mean experienced workers stay with the job, which makes the public safer.

Johnston noted that several state lawmakers, including Senate Democratic Leader Andrea Stewart-Cousins, are asking OGS to revise its bidding process.

"They are calling for a solicitation that maintains high quality standards," he said. "And they are also calling on this high quality to be maintained to keep people safe."

He thinks the OGS should rescind the current solicitation of bids and return to contracting security and fire-safety director firms through a request-for-proposals process.
Andrea Sears, Public News Service - NY