WA Carbon Fee Initiative Addresses Environmental Justice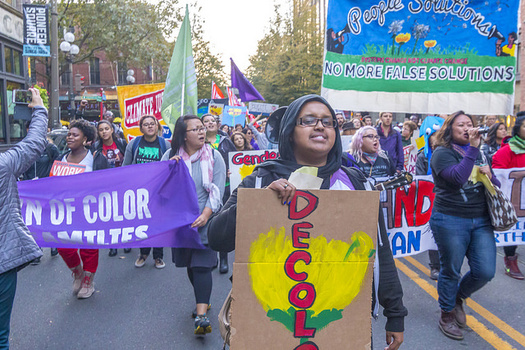 I-1631 would use a fee on carbon pollution to invest in communities of color that have disproportionately been affected by climate change. (John Duffy/Flickr)
May 29, 2018
SEATTLE – The latest effort to curb carbon pollution in Washington state is putting communities most affected by climate change at its center. Backers of Initiative 1631 are gathering signatures to qualify it for the November ballot.

It would charge $15 per ton on carbon emissions starting in 2020. Thirty-five percent of the fee would be invested in communities of color that have borne the effects of pollution.

Dujie Tahat is the communications director of Front and Centered, an organization that represents communities of color fighting climate change. He notes the disproportionate effects, such as higher asthma rates for children of color, in these communities.

"(Initiative) 1631 represents an opportunity to put the cost burden back onto the polluters and holds the largest corporate polluters accountable, because our communities, you know, we've been paying our fair share," he says. "And now it's time to make it more equitable, in that sense."

Fifteen-percent of the fee would address the oversized energy burden for low-income households, 10 percent would go to Native American tribes affected by climate change, and a $50-million reserve from the fee would assist displaced fossil-fuel workers. Opponents of the measure say companies could pass the cost of the fee onto Washingtonians.

Tahat says it's important to reframe the conversations on racial justice and climate change and recognize they are interwoven issues.

"If the human cost of climate change matters to you, then what people of color - what communities of color have to say about it, what the organizations that work in those communities have to say about it - that should matter to you," he explains.

Recent pushes to charge a fee on carbon pollution have failed, including a 2016 ballot measure and 2018 legislation. Initiative 1631 is more focused on communities of color than previous attempts and has gained the support of the Alliance for Jobs and Clean Energy, the Quinault Tribe and Gov. Jay Inslee. The initiative needs about 260,000 signatures by July 6 to qualify.