New Fed Rule Protects Consumers from Formaldehyde in Wood Products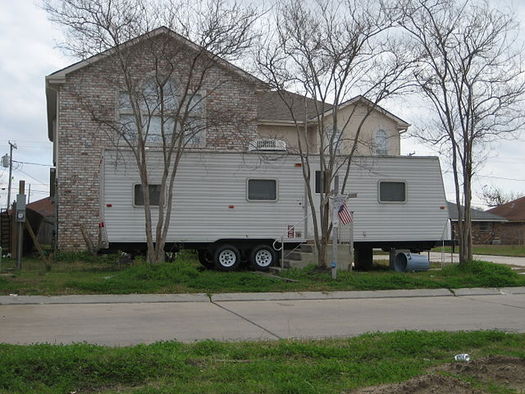 The harmful effects of excessive formaldehyde in wood products came into sharp focus in FEMA trailers after Hurricane Katrina. (Infrogmation/Wikimedia Commons)
June 4, 2018
SEATTLE – A new rule put in place by the Environmental Protection Agency this month will protect consumers from formaldehyde in wood products.

Formaldehyde is used to bind wood in products such as cabinets, flooring and even RV paneling. However, excessive use of the product can hurt people's health.

While the EPA created tougher standards in 2016, EPA Administrator Scott Pruitt delayed their implementation.

The environmental law organization Earthjustice challenged that decision, and in March a judge ordered enforcement of those rules by June 1.

Patti Goldman, Northwest managing attorney at Earthjustice, calls the decision a major win for consumers, especially given the harm formaldehyde can do.

"There are a lot of materials that off-gas formaldehyde, which is very dangerous," she points out. "It's a respiratory irritant. It's linked with leukemia and other cancers. It exacerbates childhood asthma.

"So it's really a good thing that we will be protected from excessive formaldehyde emissions."

The severe health effects from formaldehyde were on full display in the aftermath of Hurricane Katrina in 2005, when families living in emergency housing started complaining of splitting headaches, breathing problems and other reactions.

Goldman says this was mainly due to imported wood products used to make the temporary housing.

Most manufacturers in the United States have already been complying voluntarily with tougher standards.

Jackson Morrill is president of the Composite Panel Association, which represents more than 90 percent of the industry's manufacturing capacity in the United States. He says this move has been a long time coming and marks a major milestone that levels the playing field for domestic wood-product manufacturers.

"This is a great outcome for consumers and we certainly believe it marks the beginning of a new generation of safer wood products in the U.S.," he states. "And certainly the North American producers are going to be at the forefront of that, leading the way – where they've been for the last 30 years."

In 2010, Congress passed bipartisan legislation adopting California's stance on tougher standards for formaldehyde emissions from composite wood products. That 2010 statute eventually led to tougher regulations in 2016 and their enforcement this month.