Impeachment Proceedings Reach Crucial Point in Loughry Case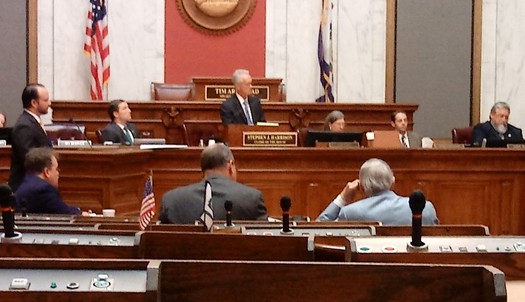 The House Judiciary Committee is expected to hear crucial testimony Thursday relating to the likely impeachment of state Supreme Court Justice Allen Loughry. (Dan Heyman)
July 25, 2018
CHARLESTON, W. Va. – With one investigation of three other West Virginia Supreme Court justices closing, the impeachment process against Justice Allen Loughry continues with a vital hearing Thursday, when the House Judiciary Committee hears testimony from former court administrator Steve Canterbury, which is likely to go to the heart of charges against Loughry.

The committee chairman, Del. John Shott, R-Bluefield, said the committee has to keep a careful balance.

"We take that very seriously," he said. "We don't want to set a low bar and cause the justices to be in fear of every decision they make. At the same time, they should know that they're accountable for behavior that's just not acceptable."

The court as a whole faces charges of financial mismanagement and extravagant spending while remodeling the 80-year-old court offices in the historic State Capitol.

Loughry also is accused of using official cars, computers and furniture during personal time. He also faces 23 federal charges, mostly for lying and witness tampering during the investigation.

The state's Judicial Investigation Commission has just ended investigations of Justices Robin Davis, Margaret Workman and Beth Walker, saying it found no violations worth pursuing. That makes it unlikely, but not impossible, that they would be impeached.

Shott said lawmakers haven't yet seen indications of corruption in how the justices ruled on cases, but he said the public has the right to be angry about irresponsible behavior, whether or not the offenses are impeachable.

"It's obvious that what came out in the press was a motivation for a lot of people to look beyond the surface," he said. "Individual incidents that might not be enough, but a pattern that might be enough. So, our committee initially, and the House and then the Senate, will be the final arbiter of that."

Canterbury was fired one day after Loughry took the rotating position as chief justice. Committee testimony has shown internal strife at the court, including between Loughry and Canterbury. The state Supreme Court also administers all the state courts. Canterbury was important in that system and helped direct its multi-million-dollar budget.

The 9 a.m. hearing will be streamed at wvlegislature.gov, and more information is available here.