Sister Act: Nuns Bring Message of Economic Justice to Missouri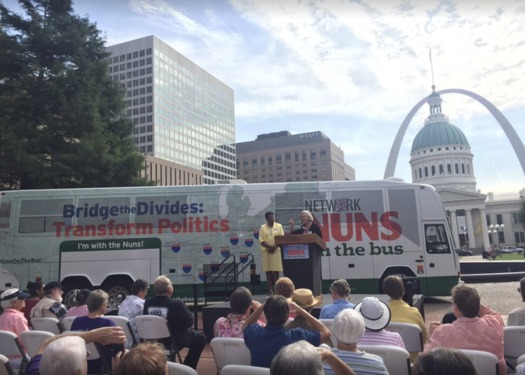 The Nuns on the Bus at a 2015 event in St. Louis. This year, they'll be back on Oct. 17. (Nuns on the Bus/Facebook)
October 12, 2018
ST. LOUIS – A group of Catholic nuns is taking a break from their congregations and hitting the road to speak up for economic justice.

The "Nuns on the Bus" tour rolls into St. Louis next week to call attention to the impacts of the 2017 Republican tax bill, which some argue shifted wealth away from lower and middle class families to the "one percent."

The group's leader, Sister Simone Campbell, says her faith teaches her to look out for society's most vulnerable people – and in her view, politics is an important piece of that.

"Quite frankly, the Constitution's best values are quite similar to my faith values," says Campbell. "And what we know is, it's about 'We the people' – we the people of the United States, forming a more perfect union. So the fact is that it's our constitutional mandate to create a union that works for the 100 percent."

The group is calling for budget and tax policies that invest in communities and reduce economic inequality. The sisters will host a town-hall-style event in St. Louis to hear from Missourians about the challenges they face.

Campbell says as people of faith, they are putting into practice the teachings of the Bible, and promoting what she calls "a healing message."

"We can disagree about policy, that's fine," says Campbell. "But let's be connected with each other and find the way forward together, and that is a healing message for our nation."

The politically active Catholic sisters are visiting 21 states on their tour, which concludes just before the November midterm elections at President Trump's Mar-a-Lago Club in Florida – a site they refer to as "the pinnacle of economic inequality."
Stephanie Carson, Public News Service - MO