Public Lands Take Spotlight as Midterm Elections Near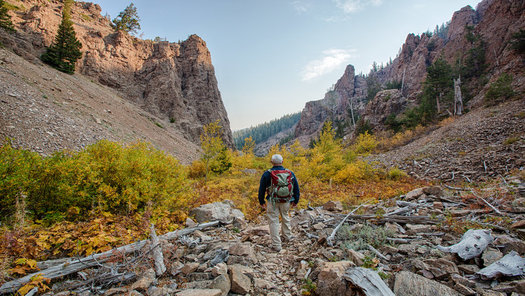 Uncertainty around the Land and Water Conservation Fund has stalled an effort to move a 14-mile section of the Continental Divide Trail off of a dangerous highway near Steamboat Springs. (Wikimedia Commons)
October 23, 2018
GOLDEN, Colo. — On Sept. 30, Congress allowed the Land and Water Conservation Fund to expire, and some conservationists say the move has amplified voter concerns about the future of public lands heading into November's midterm elections.

Amanda Wheelock, communications specialist for the Continental Divide Trail Coalition, said while the environment typically takes a back seat to issues such as the economy and health care, public lands are especially important in Colorado.

"So I think you see a lot of voters, regardless of whether they call themselves conservationists, out here in the Rocky Mountain West in general and specifically in Colorado, that do really value the quality of life that public lands add," Wheelock said.

She said uncertainty about the conservation fund's future has created major roadblocks across the nation, including an effort to move a 14-mile section of the Continental Divide Trail off of a dangerous highway near Steamboat Springs.

Bills to restore the fund have cleared committee in both the U.S. House and Senate, but have yet to get a floor vote.

Colorado State Treasurer and GOP gubernatorial candidate Walker Stapleton has promised to continue the state's trend of balancing conservation and energy development on public lands.

Democratic candidate Jared Polis recently wrote an opinion column for the Vail Daily spotlighting the 50-year-old conservation fund, which tapped offshore drilling revenue to expand access to public lands and build local parks.

"And I think to have a gubernatorial candidate devote an entire op-ed to public lands just shows that it is an important issue," Wheelock said. "I think people are upset about the Land and Water Conservation Fund expiring and want to see Congress do something about that."

Wheelock said many state and federal candidates have strong stances on how to develop and protect public lands, and the most important thing Coloradans can do to make their voices heard is vote.

"Every single American, every single Coloradan, owns these lands just as much as the next person," she said. "And we want folks to be able to get out there and to access them and to use and enjoy these lands that they own."