Mainers: Study Candidates, Issues Before Election Day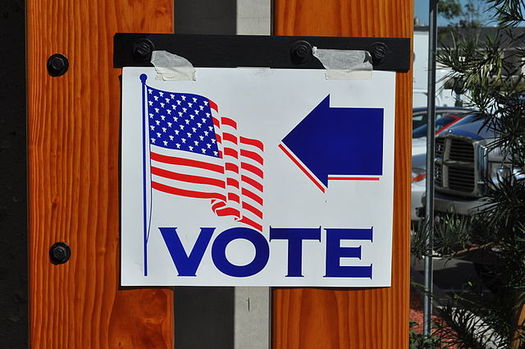 The 2018 general election is expected to draw record numbers of voters for a midterm election. (Wikimedia Commons)
October 31, 2018
AUGUSTA, Maine - Political leaders and public officials are calling next week's midterm elections some of the most important votes Americans will cast in several decades.

Maine voters will cast ballots in races for U.S. Senate and House seats, the governor and other statewide offices as well as several ballot initiatives including universal home care and a series of bond issues to fund infrastructure and education.

Jeanette Senecal, senior director of mission impact for the League of Women Voters of the United States, said it's important to study the candidates and issues before casting those votes.

"They should take some time to learn about the candidates and the ballot issues," she said. "They can go to VOTE411.org, where they can put in their address and we will give them who's going to be on their ballot and what issues are also going to be on their ballot, so they can figure out who would best represent them."

Senecal said voters should make sure they know their precinct number and the location of their polling place. Previous voters in Maine do not need to show ID, but new voters need to show a driver's license, state ID card or other accepted forms of identification. On Tuesday, Nov. 6, polls will open between 6 and 10 a.m., depending on the site, and remain open until 8 p.m.

Long lines are expected in many Maine polling places, Senecal said, which is another reason to be ready to mark that ballot when you enter the booth.

"It's really important to figure out the information in advance, because it actually helps control the lines on Election Day itself," she said. "So, if you know who you're going to vote for, you're not spending a lot of time, and that helps other citizens exercise their right to vote as well."

If there is a problem with your voter registration, she said, you can file a provisional ballot and follow the instructions on how to clear up the discrepancy. Voters who are denied an opportunity to vote should contact a voter assistance hotline, such as 866-OUR-VOTE (866-687-8683), so they can investigate the problem. Senecal said you should never - not - vote.

"Frankly, when you don't vote, you've increased the power of somebody you may or may not agree with by 100 percent," she said, "because they have their own vote, and now they have your vote as well."

In Maine, 73 percent of registered voters cast ballots in the 2016 general election, well above the national average of 60 percent.
Mark Richardson, Public News Service - ME