House-passed Dream Act Likely to Die in Republican-Controlled Senate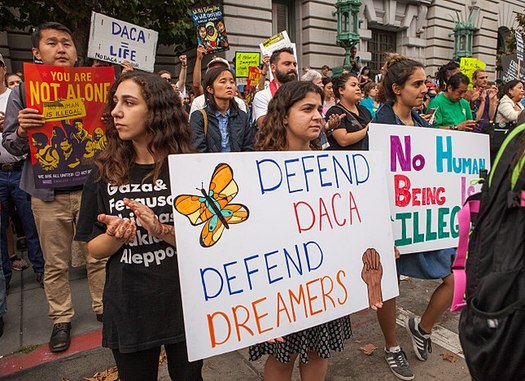 Immigrant households that would benefit from a new Dream Act contribute more than $17 billion in federal taxes and nearly $10 billion in state and local taxes annually. (P.A.Gethen/Wikimedia Commons)
June 7, 2019
OMAHA, Neb. – This week, the U.S. House of Representatives passed legislation that would provide more than two million people a path to permanent residency and citizenship.

The American Dream and Promise Act includes so-called "Dreamers," who entered the country as children, and people with temporary protections.

Jennifer Piper, interfaith organizing director with the American Friends Service Committee, says the measure would affect people who have been living in the U.S. for decades and, in some cases, reapplying for protections every 18 months.

"So, the government already knows them, they're employed, they're key members of our communities," says Piper. "And right now, they're facing deportation, and separation from their home and their children, as President Trump looks to end these programs."

Nebraska Congressman Don Bacon from Omaha was one of only seven Republicans voting to advance the measure.

Critics argued the bill lacked additional border-security provisions requested by the Trump administration. And it faces an uncertain fate in the Republican-controlled Senate.

According to University of California researchers, immigrant households that would be affected by the legislation contribute over $17 billion in federal taxes and nearly ten billion in state and local taxes annually. Piper says if the bill becomes law, more than 1,500 Salvadorans, Hondurans and Haitians – and their 1,500 U.S.-born children – living in Nebraska would no longer have to fear being separated.

"This bill really addresses the people who have been here for many years and who have reapplied following these temporary rules, trusting our government and trusting us as a country to continue to value them as our neighbors," says Piper.

President Donald Trump has previously called on Congress to fix the nation's ongoing immigration challenges. Executive orders to end the Deferred Action for Childhood Arrivals, Temporary Protected Status and Deferred Enforced Departure programs have so far been blocked by federal courts.

The latter two programs, TPS and DED, are meant to provide relief to families fleeing countries devastated by natural disasters, disease or civil war.