Initiative to Raise ID's Minimum Wage Collecting Signatures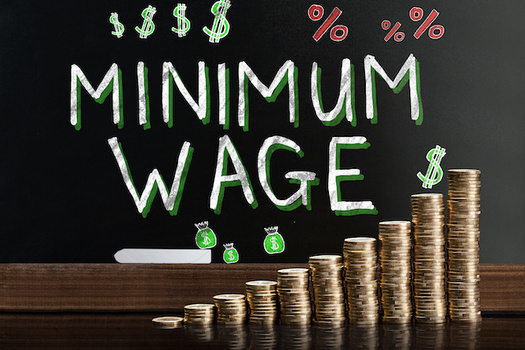 Four of Idaho's neighboring states have raised their minimum wage amounts. (Andrey Popov/Adobe Stock)
June 21, 2019
BOISE, Idaho – The drive to get signatures for a ballot initiative to raise the minimum wage in Idaho is ramping up. The group Idahoans for a Fair Wage has launched efforts to get a minimum wage hike on the 2020 ballot, calling on the state to raise wages incrementally to $12 an hour over four years.

Currently, the state minimum is the same as the federal, at $7.25. Rod Couch, treasurer and head of Idahoans for a Fair Wage, says the state's growing population is pushing housing prices up and making it even harder to live on a minimum-wage income.

"The reason we chose $12 is because back in 1968, the minimum wage was $1.60 an hour, which doesn't sound like much today, but in today's dollars it would be worth $11.59," says Couch. "So, we're just trying to get back to 1968 levels."

According to federal and state estimates from 2017, 16,000 Idahoans made the federal minimum wage and more than 200,000 made less than $12 an hour. Attempts to raise the minimum wage in the state Legislature have faced strong opposition from Republicans, who claim employers won't be able to afford the increase and think the government shouldn't dictate wages.

Couch agrees he wants to make sure the measure doesn't harm businesses, especially small ones. However, studies have shown state minimum-wage increases don't hurt employment or the economy, and can actually help to save on turnover costs.

Couch says it would also give people more spending power.

"They don't have the money to go spend at their business, but if you put another $10,000 a year into their pocket, then they'll go around to the local economies and go out to eat, they'll go out to movies and buy a cup of coffee, and things like that," says Couch.

Twenty-nine states have raised the minimum wage, including Idaho neighbors Montana, Nevada, Oregon and Washington. Backers of the measure must collect about 55,000 signatures, with six percent of registered voters in 18 of the state's 35 legislative districts, over the next 10 months.