Groups Challenge Idaho Power Water Permits at Hells Canyon Dams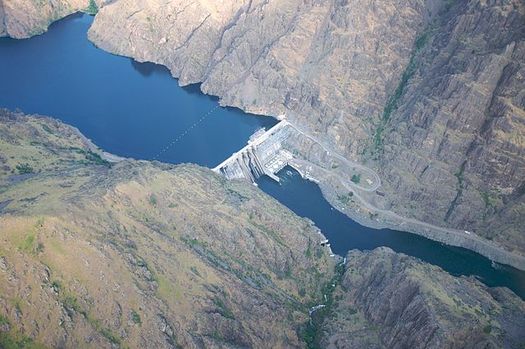 Hells Canyon Dam is one of three hydroelectric dams operated by Idaho Power on the Snake River. (Sam Beebe/Wikimedia Commons)
July 26, 2019
BOISE, Idaho – River conservation groups are challenging water permits issued to Idaho Power for its Hells Canyon complex of dams on the Snake River.

The petition was filed this week in Oregon, by Idaho Rivers United and Pacific Rivers. The groups say the Oregon Department of Environmental Quality failed to follow state and federal clean-water requirements when it certified that Idaho Power will meet standards for water temperature and mercury levels.

The company is seeking a 50 year license from the federal government for the three hydroelectric dams. Executive Director of Idaho Rivers United Nic Nelson says the dams impact water quality and salmon health, and the utility's plans don't ensure the river will be protected.

"They're far too speculative to ensure compliance with the water-quality standards and, since this is a 50-year license, we don't feel comfortable kicking this issue 50 years down the road," says Nelson.

Nelson says there already are concerns on the river, including high levels of mercury found in fish in Brownlee Reservoir. Fishers at the reservoir have been warned about the potential health effects.

The Hells Canyon complex straddles the state line between Idaho and Oregon, and must get water quality certification from both states before the Federal Energy Regulatory Commission issues a new license.

Nelson says people and wildlife downriver on the Snake are affected by the Hells Canyon complex. Along with mercury concerns, Brownlee Reservoir faces the familiar threat of algae blooms – a recurring danger in hot weather that pushed Idaho officials to issue health advisories last week.

Nelson again points to water standards.

"Part of that is because of not adhering to the water-quality standards that are in place, and those types of issues would just be exacerbated or continued," says Nelson. "And we want to see this river system be a healthy ecosystem for salmon recovery, as well as the economy of both Idaho and Oregon."

The Hells Canyon complex supports about 30% of Idaho Power's energy production. The company provides power for more than a half million people in southern Idaho and eastern Oregon.