Idahoans Speak Up About Legislative Attempt to Curtail Citizen Initiatives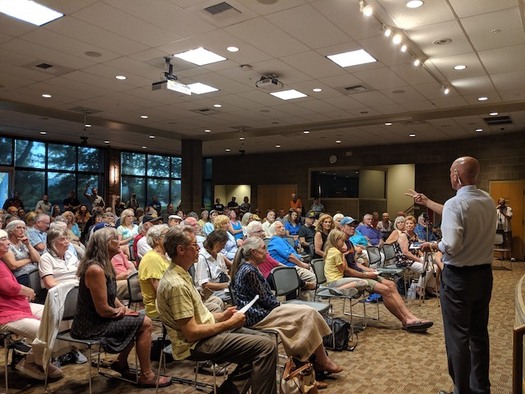 The Idaho Speaks town-hall tour came to Coeur d'Alene on July 30, packing the meeting hall. (Reclaim Idaho)
August 5, 2019
TWIN FALLS, Idaho — Critics of a bid by Idaho legislators to restrict the citizen initiative process continue their tour across the state. Reclaim Idaho has hosted events in Boise, Sandpoint and, most recently, Coeur d'Alene on its Idaho Speaks town-hall series.

This past legislative session saw the passage of a bill - eventually vetoed by Gov. Brad Little - that would have increased the number of signatures required to get an initiative on the ballot, while cutting the timeframe to collect those signatures from 18 months to six. Retired Idaho Supreme Court Chief Justice Jim Jones is on the tour and opposes attempts to change the process, saying under that bill, four legislative districts could have vetoed any initiative.

"That's completely unreasonable. Under our Constitution, the people are the source of government power. They have the constitutional right to amend, revoke or change government at any time," Jones said. "How can they do it if all roads to power lead through the Legislature?"

Jones called the attempts a power play by the Legislature to make the initiative process unworkable.

At the Coeur d'Alene event, state Sen. Mary Souza, R-Coeur d'Alene, defended the changes, saying the legislative process provides a more in-depth vetting of legislation than the ballot initiative. Other legislators have worried initiatives could be overused.

The next Idaho Speaks stop is in Twin Falls on Wednesday.

Reclaim Idaho executive director Rebecca Schroeder noted that discussion about this process came on the heels of voters approving Medicaid expansion by a wide margin. She said she expects legislators are not done with their attempts to hamstring initiatives, and her group is gearing up for the 2020 session.

"We feel that the biggest risk we run is letting this issue kind of fall out of the public discourse," Schroeder said. "We can't let folks forget about what happened and we need to be prepared when this comes around again."

The Twin Falls town hall begins at 6:30 p.m. at the College of Southern Idaho. The series will then head to Idaho Falls on August 13 and Eagle on August 15. Reclaim Idaho also is doing door-knocking on this issue Monday night in Twin Falls and Saturday in Eagle.