Initiative Put on Ballot for Tucson 'Sanctuary City' Vote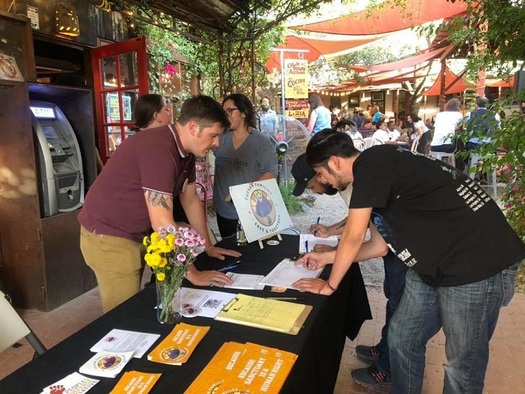 Immigration advocates gathered more than 18,000 signatures to put an initiative on the November ballot to make Tucson a "sanctuary city." (People's Defense Initiative)
August 8, 2019
TUCSON, Ariz. – Groups pushing to make Tucson a sanctuary city say they are redoubling their efforts after the mass shooting in El Paso that they maintain was aimed at Hispanics.

Following a petition drive by immigration advocates, the Tucson Families Free and Together initiative has been placed on the November ballot by the Pima County Recorder's Office.

If the initiative is approved, it would make Tucson the first sanctuary city in Arizona.

Zaira Livier, director of the People's Defense Initiative, says her group is confident the measure will pass in November.

"Times are changing, and any migrants, any person of color can tell you that the last three years have been specifically challenging with such xenophobic rhetoric and violent rhetoric," Livier states.

The Pima County Republican Party has mounted a legal challenge to the signatures gathered to put the measure on the ballot.

Backers of the measure turned in about 18,000 signatures to the Pima County Recorder.

County election officials say a spot check of the signatures submitted verified about 72% of them, more than enough to qualify the initiative for the ballot.

A hearing has been scheduled next week on the suit filed by Pima County Republicans.

If the initiative is approved, Tucson, which already has designated itself an Immigrant Welcoming City, would adopt laws that limit local officials' ability to cooperate with federal immigration authorities.

Livier says the vote has taken on even more importance after the El Paso shootings.

"Violent rhetoric always leads to violence," she stresses. "Violent policy always leads to violence. We're seeing the federal administration threaten our community for political expediency, threaten millions with deportations. What happened in El Paso was the manifestation of all of that."

Livier says one of the main targets of the initiative is to wipe out the last remnants of SB 1070, a broad anti-immigrant law passed by the Arizona State Legislature in 2010.

Although much of the law has been tossed out by the courts, it still has a "show me your papers" clause allowing police to ask anyone in custody to provide evidence of citizenship.

Livier says her group plans to take the momentum of winning in Tucson to other cities and counties across Arizona to change local laws in those locations.