Groups Sue to Halt Oil, Gas Leases on Utah Public Lands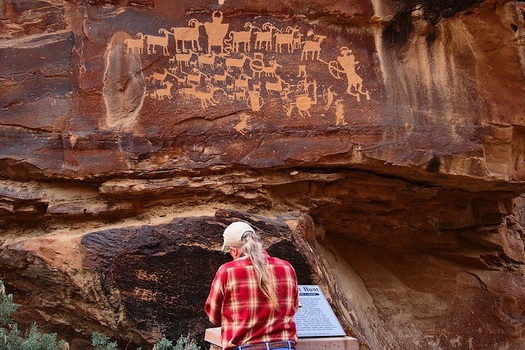 Ancient petroglyphs line more than 40 miles of rock wall faces along southern Utah's Nine Mile Canyon, which has been called the "world's longest art gallery." (WikimediaCommons)
September 13, 2019
SALT LAKE CITY – A coalition of conservation groups is suing the Trump administration to halt the potential environmental damage from 130 oil and gas leases awarded on public lands in Utah.

The complaint says the Bureau of Land Management violated the National Environmental Policy Act by approving leases between 2014 and 2018 on 175,000 acres in southern Utah without accounting for the climate pollution it would cause. The suit seeks to invalidate all 130 leases.

Landon Newell, staff attorney with the Southern Utah Wilderness Alliance, says the BLM is ignoring the potential damage of its actions.

"In these leasing decisions that we've challenged, the BLM has failed to analyze reasonably foreseeable emissions that will come from its leasing decisions," says Newell.

Partners in the lawsuit, in addition to the Southern Utah Wilderness Alliance, include the groups Living Rivers and the Center for Biological Diversity.

Newell says they are most concerned about several leases granted in areas of fragile wilderness where there also are multiple historical sites.

"These leases will open up areas of enormous value to wildlife, to cultural resources and archaeological history," says Newell. "The leases are in areas of wilderness characteristics and we're sacrificing all of that for development. That's unnecessary and unneeded."

He says a major concern among the leases is an area known as Nine Mile Canyon, described as the "world's longest art gallery."

"Nine Mile Canyon is an area that even the BLM acknowledges has world-renowned cultural and archaeological value," says Newell. "The BLM itself has referred to Nine Mile Canyon as an outdoor museum."

Newell says the leases also threaten endangered species, including the Colorado pike minnow and razorback sucker. He adds that the fracking process for oil and gas uses enormous amounts of water and could pollute the Colorado River and tributaries where the fish live.