California Avanza a un Futuro más Amigable con la Edad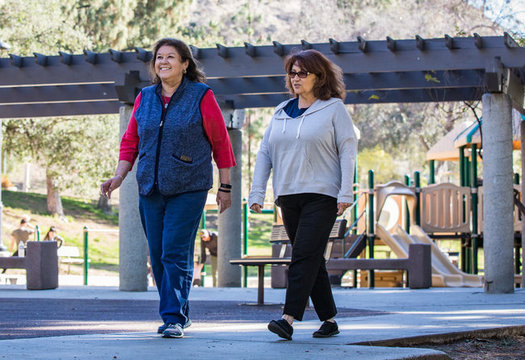 El Estado de California se trabaja para llegar a un futuro más vivible, caminaba y amigable. (AARP California)
October 16, 2019
SACRAMENTO, Calif. – Grupos que abogan por los adultos mayores celebran la legislación recién firmada por el Gobernador Gavin Newsom, que se ajusta a la meta del estado de hacer un Plan Maestro para el Envejecimiento. La Iniciativa 1118 de la Asamblea invita al estado a que haga mancuerna con la AARP en un marco de trabajo que ayude a que California sea un estado "amable con la gente de edad avanzada".

Para 2030 cifra de población de California mayor de 65 años habrá crecido en cuatro millones – y la iniciativa firmada recientemente por el Gobernador Gavin Newsom deberá ayudar a que el estado incluya esta modificación al hacer sus planes.

La Iniciativa 1118 de la Asamblea, de la Asambleísta Blanca Rubio, instruye al estado a registrarse en la Red AARP de Comunidades y Estados Amigables con la Edad (Network of Age-Friendly States and Communities). Jennifer Berdugo, de la A-A-R-P California, dice que es un marco de referencia para ayudar a los planificadores del estado a visualizar un futuro más vivible para la gente mayor.

"Ya sabes, vehículos autónomos, por ejemplo – ¿habrá infraestructura para dar servicio a los adultos mayores, o a la gente que tenga alguna discapacidad?"

Ser parte de esta red ayuda a usar un lente amigable con la gente mayor, para ver el proceso de planeación y que, por ejemplo, los parques atraigan tanto a pequeños como a mayores, y que las áreas del centro tengan marcadas zonas para transporte, parques, negocios, instalaciones médicas y espacios cívicos, todo en estrecha cercanía, para motivar a caminar a quienes no puedan manejar.

Berdugo dice que 39 comunidades en todo el estado ya son miembros de la red amigable con la gente de edad, y se siguen sumando más ciudades y estados.

"De hecho tenemos cinco estados ya inscritos. California sería el sexto y sería el primero en pasar todo este proceso legislativamente. Queríamos que nuestros funcionarios electos realmente aceptaran apoyar este esfuerzo."

Hace algunos meses el Gobernador Newsom publicó una orden ejecutiva instruyendo al estado crear un Plan sobre Envejecimiento ("Plan on Aging") – así que unirse a la red amigable con los mayores es un paso para apoyar ese esfuerzo.
Disclosure: AARP California contributes to our fund for reporting on Health Issues, Senior Issues. If you would like to help support news in the public interest,
click here.