For Third Year, ID River Listed Among Most Endangered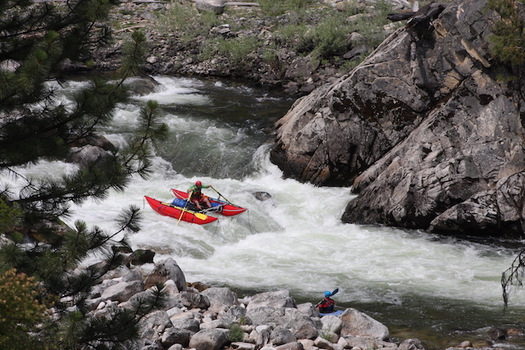 The South Fork Salmon River in central Idaho is a popular recreation river. (Wendy Jones/American Rivers)
April 14, 2020
MCCALL, Idaho -- For the third year in a row, the South Fork Salmon River has been named one of the most endangered in the country. That's according the group American Rivers, which has released its list of the country's ten most threatened rivers.

For the South Fork Salmon, the threat comes from an open-pit gold mine. Charles Ray lives in McCall, near the proposed mine, and is a member of Save the South Fork Salmon. He said the proposal would endanger communities.

"Since it's a headwaters area, anything that happens up there affects everything downstream - fish and wildlife and dependent economies all the way down the entire length of the Salmon River," Ray said.

The Canadian-based company Midas Gold Corporation has proposed mining for gold and antimony at Stibnite, where mining first began more than a century ago. The company has said it would bring in jobs and has called it a restoration project that benefits the local environment.

But Northern Rockies director of American Rivers Scott Bosse said it would open up old wounds for a river that has been on the mend for decades. The river also is revered by local tribes, including the Nez Perce Tribe, which have invested in restoring the river.

Bosse said the South Fork Salmon is crucial for endangered salmon and steelhead and supports a thriving recreation economy.

"Millions of dollars have been invested to clean up the water quality and to improve the habitat for salmon and steelhead," Bosse said. "And if this mine is allowed to be constructed up the east fork of the South Fork, it really would reverse decades of progress to restore this river."

Ray said he's been visiting the headwaters of the South Fork Salmon for decades and started bringing his kids there when they were little. He said it's is a unique place, deserving protection.

"We don't need any more gold for jewelry and hoarding," Ray said. "What we need is healthy, self-sustaining runs of salmon and steelhead. So that's where my heart is."

The Payette National Forest has pushed back a draft environmental impact statement for the mine to the fall because of the coronavirus outbreak.
Disclosure: American Rivers contributes to our fund for reporting on Climate Change/Air Quality, Environment, Salmon Recovery, Water. If you would like to help support news in the public interest,
click here.