Conservation Groups Call On Senate to Reject BLM Nominee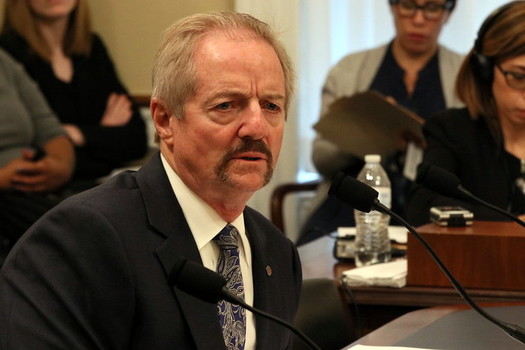 William Perry Pendley, testifying before the House Natural Resources Committee in 2019, is a nominee for director of the U.S. Bureau of Land Management. (BLM photo)
July 13, 2020
MESA, Ariz. -- Conservation groups are calling on members of the U.S. Senate to block William Perry Pendley's nomination to lead the Bureau of Land Management.

Pendley, the acting head of the BLM for the past year, has a long history of backing the sale of public lands to private businesses and the states. He previously served as president of the anti-government Mountain States Legal Foundation.

Michael Cravens, conservation coordinator for the Arizona Wildlife Federation, says Pendley's record makes him the wrong choice.

"William Perry Pendley has literally spent a career advocating against public lands," Cravens points out. "There is a very clear, well-documented record of where he stands and the work he's done to take these lands away from the American people."

In a letter to senators last week, the National Wildlife Federation and its affiliates in 12 western states called for lawmakers to reject Pendley's nomination.

Interior Secretary David Bernhardt says Pendley's years of experience in federal land management qualify him for the job.

Cravens disagrees, pointing to Pendley's record of prioritizing the sale of oil and gas leases during his tenure at the BLM.

"The bureau has offered up more acres of public land for oil and gas leasing in one year than any other administration ever has," Cravens stresses. "There is a long list of things like that, but the one thing that is missing is any meaningful conservation plans or programs."

Arizona's U.S. senators have supported conservation legislation in the past, and Cravens says now isn't the time for them to do an about face.

"Senators McSally and Sinema both voted in favor of the Great American Outdoors Act, historic legislation for the environment, for wildlife and for people," Cravens states. "If they do not vote against the nomination of William Perry Pendley, that is going to undo so much good work for conservation."

State officials say Arizona has about 30 million acres of public land that generates more than $20 billion in consumer spending each year, puts $1.5 billion in taxes into state and local coffers and supports over 200,000 jobs.
Disclosure: National Wildlife Federation contributes to our fund for reporting on Climate Change/Air Quality, Endangered Species & Wildlife, Energy Policy, Environment, Public Lands/Wilderness, Salmon Recovery, Water. If you would like to help support news in the public interest,
click here.