Small Yet Vital Streams Could Lose Protections in Ohio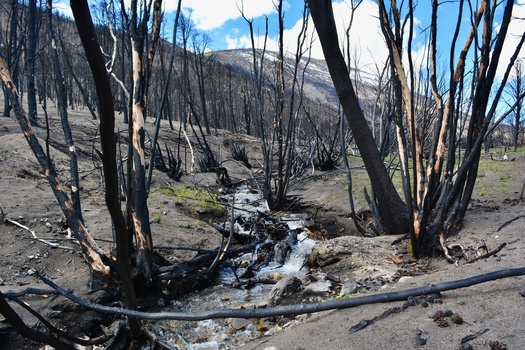 COLUMBUS, Ohio -- A vital part of watersheds in Ohio would lose environmental protection under a proposed bill.

A committee hearing will be held today on House Bill 175. It changes the definition of ephemeral streams, making the waterways no longer subject to Clean Water Act regulations in Ohio.

Emily Obringer, Water Conservation Coordinator for the Sierra Club Ohio chapter, explained ephemeral streams have flowing water only during and after precipitation, and are located above the water table.

The state's Environmental Protection Agency estimates there are roughly 36 thousand miles of ephemeral streams in Ohio, but Obringer said other estimates are closer to 45,000 miles.

"Basically, deregulation would affect every watershed in Ohio," Obringer asserted.

Rep. Juanita Brent, D-Cleveland, argued it's nonsensical to remove protections for ephemeral streams while the state spends millions of dollars on the H2Ohio water-quality initiative.

"Water is life," Brent stated. "Ohio is so fortunate that we have Lake Erie right here. And chipping away at our investment into making sure that our water is taken seriously is a huge threat on our quality of life."

The bill's supporters contended it would remove expensive barriers to economic development, and clarify what types of water features can be regulated.

Obringer added under House Bill 175, the various industries that pollute ephemeral streams would no longer be financially responsible for the cleanup.

"Ohio ratepayers and municipalities would foot the bill of maintaining safe drinking-water standards and stream mitigation," Obringer reported.

Brent argued Ohio should avoid loosening any regulations related to water protection, after the Trump administration's Navigable Waters Protection Rule reduced the waterways covered under the federal Clean Water Act.

"Now, when we look at what our state is doing and what multiple states are doing, that's basically opening us up to tell the world that you can do anything with the water no matter where you're at, and that Ohio's going to be OK with it," Brent remarked.

The House Agriculture and Conservation Committee hearing begins at 9:00 a.m.


Disclosure: Sierra Club, Ohio Chapter contributes to our fund for reporting on Energy Policy, Public Lands/Wilderness, Urban Planning/Transportation, and Water. If you would like to help support news in the public interest,
click here.
get more stories like this via email
Social Issues
A Nevada democracy watchdog group said social media, blogs, websites and hyperpartisan news organizations are all working overtime to spread …
Social Issues
Education officials in Ohio want state leaders to invest in free school meals for all students. Pandemic-era federal waivers enabling schools to …
Environment
Agriculture researchers say if the U.S. wants more farmers to adopt climate-friendly practices, they will need to be offered some proven incentives…
Environment
As the fall harvest season takes shape in South Dakota, an agricultural specialist said there are many ways motorists and farmers can avoid crashes …
Social Issues
Massachusetts residents are being asked to step up, just as they did five years ago, to help their fellow Americans in Puerto Rico. The …
Social Issues
It's been more than 50 years since the White House held a gathering about the effects of hunger across the nation. In 1969, the White House held its …
Social Issues
By Caleigh Wells for KCRW.Broadcast version by Suzanne Potter for California News Service reporting for the KCRW-Public News Service Collaboration Wh…
Social Issues
As the midterm elections approach, there are concerns about whether Latino voters will turn out as much as they have in past elections. In New York…