COLLEGE STATION, Texas - The pandemic upended normal college life causing mental-health challenges that are now being studied at Texas A&M University for their prevalence and severity.

Students participating in a research project have been fitted with a smartwatch, or what researchers call a "wearable continuous monitoring tool."

Assistant Professor of Industrial and Systems Engineering Farzan Sasangohar is part of the Texas A&M research team that designed and developed m-HELP (Mental Health Evaluation and Lookout) - to investigate the effectiveness of using a combination of wearable sensors, mobile health and machine learning to monitor students' mental health.

"Students loved it," said Sasangohar. "They love that this tool is very discreet - doesn't shout 'mental health support.' It's just a smartwatch that sits on any off-the-shelf product."

He said the tools help detect mental-health anomalies, and equip users with therapeutic and self-assessment tools on mobile health platforms. He added the program is based partly on research gleaned from monitoring veterans' mental health.

The Texas A&M team surveyed 2,000 students about their mental health and interviewed 200, and researchers noted heightened mental-health issues attributed to the pandemic.

Sasangohor said they had no problem finding students to talk with. He said he feels issues of mental health were major problems before COVID, made worse for students since the social life they anticipated on campus has been restricted.

"I really think the future of mental health is self-management," said Sasangohar. "I think the stigma associated with mental health is the main reason why people are not reaching out for help."

The survey found about 70% of students reported heightened levels of stress and anxiety, and more than 90% expressed fear and worry about their own health and the health of their loved ones.




get more stories like this via email
Social Issues
Community volunteers in New Hampshire are turning unwanted firearms into garden tools as part of a nationwide effort to reduce gun violence. Under …
Social Issues
Parents and educators in the Houston Independent School District said they are all for improving schools but do not believe a state takeover by an une…
Social Issues
The U.S. Supreme Court upheld a lower-court ruling on a 5-to-4 vote Thursday, deciding Alabama's 2022 congressional maps violated the Voting Rights …
Environment
The Bureau of Land Management has announced a $161 million investment in habitat and wildland restoration projects in 11 western states. Alaska is …
Environment
As smoke from Canadian wildfires blankets New York and much of the East Coast, it's causing a wide range of health effects - and not just for people…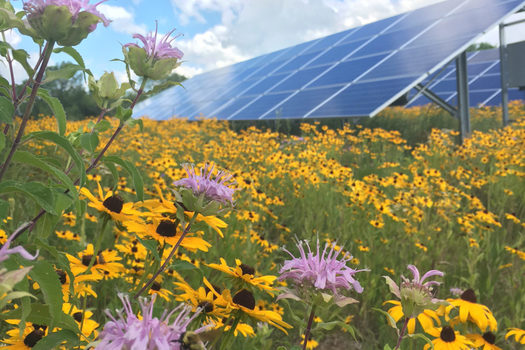 Environment
By Elizabeth Hewitt for Reasons to be Cheerful.Broadcast version by Mike Moen for Minnesota News Connection reporting for the Solutions Journalism Net…
Social Issues
To fight such pressing issues as housing shortages and increasing crime rates in cities across the country, many of the nation's mayors are taking …
Health and Wellness
As part of Alzheimer's and Brain Awareness Month, mental-health advocates in Iowa are sharing information about Alzheimer's and say two new drugs …