Poll Shows Voter Support for NY Aid-in-Dying Act
ALBANY, N.Y. -- A new survey shows most New Yorkers approve of medical aid-in-dying legislation, and advocates for end-of-life autonomy said it is even more reason for the Legislature to pass the bill this session.

The poll shows about six in 10 New York voters, regardless of region, political party or race, support the bill, which would allow certain patients to request a prescription from a doctor to end the patient's life.

The Aid-in-Dying Act applies to people of sound mind who have a terminal illness and prognosis of fewer than six months to live.

Corinne Carey, senior New York campaign director for Compassion and Choices, says it is time New Yorkers have an end-of-life option.

"It's not taken longer than it normally does to pass a bill of this magnitude," Carey observed. "But it's taking too long, when you look at it from the perspective of people who are suffering at the end of life. They need this option today."

The new survey mirrors the results of a 2019 Siena College poll, which found 58% of New York voters in favor. Opponents have voiced moral concerns about a patient having the option to end their life early, and fear some might be coerced into doing so.

Asw. Amy Paulin, D-Scarsdale, said they are very close to moving it forward. Paulin has sponsored aid-in-dying legislation for several years, and thinks New York could see it through this year.

"When I first started, only Oregon made aid-in-dying possible for its citizens and residents," Paulin recounted. "And now, we have many states. So, it's changed, and I think that will influence New York to follow suit."

Across both houses, the legislation has 68 co-sponsors. Paulin thinks if the bill clears the Health and Codes committees, it would have enough support in the full Assembly to pass. The legislative session is set to resume in January.


Disclosure: Compassion and Choices contributes to our fund for reporting on Civic Engagement, Health Issues, Senior Issues, and Social Justice. If you would like to help support news in the public interest,
click here.
get more stories like this via email
Environment
Since its inception, Earth Day has been an occasion to advocate for a cleaner planet - but in 2022, climate change is bringing a higher level of …
Social Issues
An initiative that would repeal Washington's capital-gains tax on the state's richest residents is struggling to gain traction. Initiative No…
Social Issues
Oregonians are casting their ballots for Tuesday's primary election. One issue affecting many voters is access to child care. Courtney Helstein…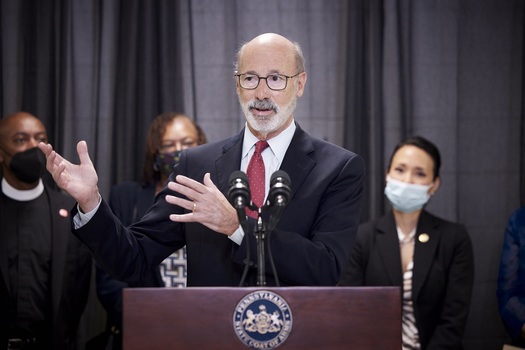 Social Issues
Gov. Tom Wolf, lawmakers and community leaders are calling on the General Assembly to pass legislation that would send checks of up to $2,000 to …
Social Issues
About half of Latinos either lost a job or had their wages cut during the pandemic,according to a recent survey from Pew. Now, AARP is offering a …
Social Issues
During the first year of the global pandemic, medical consumers in Colorado received more than one million low-value healthcare services - diagnostic …
Social Issues
May is mental health awareness month. As part of that, groups in Idaho are using HOPE Week to help kids in crisis and reduce the state's worrying …
Social Issues
There's a new effort at the statehouse to make it easier for Ohioans to vote by mail by creating a permanent absentee voter list. To vote absentee …