Thursday, October 28, 2021
GLENWOOD, Minn. -- A new report showed farmers in the U.S. need better broadband and in more places, including their home offices, in their fields and their communities.

Needs range from faster upload and download speeds, better data about available networks, and scalable networks that can be updated as needs grow and change.

The report from the Benton Institute for Broadband and Society showed how broadband also is key to sustainable farming.

Jordan Arnold, research association at the Benton Institute for Broadband and Society and the report's author, said connected technologies allow farmers to measure their inputs and outputs, creating opportunities for more efficient resource management.

"One study finds that precision agriculture improves fertilizer placement efficiency by 7%. And it could improve fertilizer efficiency by another 14% with wider adoption," Arnold reported. "And so, we see broadband as key to sustainability."

She added all farms are small businesses, and in addition to farming technology, require the ability to make quick real-time decisions about their products. In 2019, a United Soybean Board study found 60% of ranchers and farmers did not feel they had the connectivity to properly run their business.

Suzanne Vold, a dairy farmer at Dorrich Dairy in Glenwood, said broadband is critical for many of her farm's software-based operations, from the composting system that recycles its manure, to the robots that milk the cows.

Vold noted if there is a problem with one of the robots, she is alerted with a call over an Internet phone line. She added they have battery backups, but need more reliable connectivity.

"Our cows get milked 24/7 around the clock by those robots," Vold explained. "And when things back up, then we not only have equipment problems, but could have animal health problems, and our cows' health is the most important thing to us."

The report includes recommendations from adopting high-performance standards and comprehensive state broadband plans, to ensuring broadband maps have mobile coverage on farmland.

Vold echoed the last recommendation, emphasizing it is important for people to know who has full access, and partial or no access. She sees the internet infrastructure as just as important as road infrastructure.

"Build to last, because rural areas, just like any areas in our country, none of our municipalities have money to spare in times like this," Vold urged. "If we put in band-aids to make quick fixes, then in a few years, we may find ourselves having to do that again."


get more stories like this via email
Social Issues
Community volunteers in New Hampshire are turning unwanted firearms into garden tools as part of a nationwide effort to reduce gun violence. Under …
Social Issues
Parents and educators in the Houston Independent School District said they are all for improving schools but do not believe a state takeover by an une…
Social Issues
The U.S. Supreme Court upheld a lower-court ruling on a 5-to-4 vote Thursday, deciding Alabama's 2022 congressional maps violated the Voting Rights …
Environment
The Bureau of Land Management has announced a $161 million investment in habitat and wildland restoration projects in 11 western states. Alaska is …
Environment
As smoke from Canadian wildfires blankets New York and much of the East Coast, it's causing a wide range of health effects - and not just for people…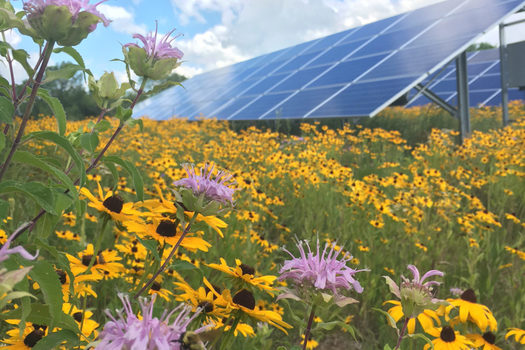 Environment
By Elizabeth Hewitt for Reasons to be Cheerful.Broadcast version by Mike Moen for Minnesota News Connection reporting for the Solutions Journalism Net…
Social Issues
To fight such pressing issues as housing shortages and increasing crime rates in cities across the country, many of the nation's mayors are taking …
Health and Wellness
As part of Alzheimer's and Brain Awareness Month, mental-health advocates in Iowa are sharing information about Alzheimer's and say two new drugs …