Young Mainers Call for Closure of Long Creek Detention Facility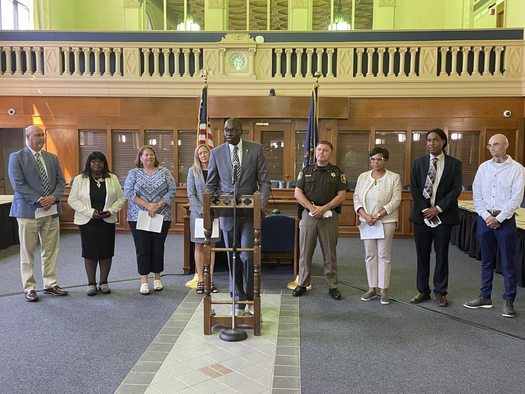 PORTLAND, Maine -- A youth group advocating for keeping young people in their communities is calling on the Mills administration to close the Long Creek Youth Development Center, and put funding toward community supports instead.

Disability Rights Maine earlier this year revealed "urgent safety concerns" at Long Creek, including allegations of dangerous use of restraints by staff, and top officials subsequently resigned.

Kyle, now a youth organizer for Maine Youth Justice, was in Long Creek for almost four years, and described it as traumatizing.

"I spent a lot of time in isolation, and I was by myself a lot," Kyle recounted. "The staff picked on me, kids picked on me. It was difficult. Staff, during restraints, would just body-slam me to the floor."

Kyle spoke at an event held by Maine Youth Justice, as the group awaits a response to a letter it sent to Gov. Janet Mills, urging her to reconsider her position that the last remaining youth prison in the state remain open. The Maine Legislature passed a law to close Long Creek earlier this year, but Mills vetoed it.

Maine Youth Justice also wants transitional plans to be created for young people released from custody, to make sure they have a place to live, and get medical care and their basic needs met.

Jade, another organizer, noted more than $18 million has been put aside for Long Creek in the budget, and if redirected, it could do so much more.

"Imagine what we could do with that nearly $19 million," Jade remarked. "We could pour that into mental health, housing, health care, job trainings."

The letter to Gov. Mills calls for investing federal funds, including from the American Rescue Plan, into community-based resources for youth.

It also noted, in addition to six instances cited by the Disability Rights report, accounts of dangerous use of force at Long Creek have been identified before, including in a 2017 report.


get more stories like this via email
Environment
Nevada is set to lose 8% of its Colorado River water allotment next year because of perilously low water levels at Lakes Mead and Powell caused by a 2…
Environment
Although President Joe Biden has signed the Inflation Reduction Act into law, many are hoping he will declare a climate emergency to provide further …
Environment
The Bureau of Land Management is kicking off its planning process for managing Grand Staircase-Escalante National Monument with several public hearing…
Social Issues
The midterm elections are less than three months away, and in Iowa, recruiting continues for those interested in helping at polling sites, where the …
Social Issues
As Florida Gov. Ron DeSantis defends and expands his call to have military veterans bypass the teacher certification process to become educators…
Social Issues
President Joe Biden signed the Inflation Reduction Act into law Tuesday, providing a means for making prescription drug prices more affordable in the …
Health and Wellness
A relatively new virus known as monkeypox has made its way to the state of Washington. About 280 cases have been reported, with 240 occurring in King …
Health and Wellness
Coloradans struggling economically put their health at risk when they decide not to turn on cooling systems, frequently out of fear of not being able …