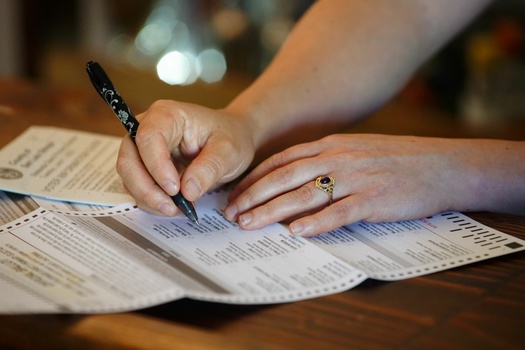 Monday, December 20, 2021
Indiana's redistricting process concluded in October, but one voting rights group is eyeing ways to ensure fair representation in the future.

From introduction to final approval, it took Indiana lawmakers less than three weeks to adopt new legislative and congressional maps. Julia Vaughn, policy director with Common Cause Indiana, said that timeline meant few opportunities for the public to weigh in on the process.

She said that Common Cause is pushing the General Assembly to approve a citizen's commission to handle redistricting in the future.

"It's only when we take this job away from very self-interested politicians that we're going to get fair districts," said Vaughn.

In a written statement issued after the maps' approval, Gov. Eric Holcomb said that the process was conducted in "an orderly and transparent way."

Per data collected by Common Cause, in states where politicians are in charge of redistricting, 36% of voting maps are either struck down or re-drawn by the courts due to partisan gridlock. In states with independent commissions, only 11% of voting maps are rejected by the courts.

According to the 2020 Census, Indiana's Black and Hispanic population grew slightly in the past decade, but Democrats in the assembly say the new voting maps dilute the voting power of those communities in favor of rural, predominantly white voters.

Allegations of racial gerrymandering sometimes go to court, but Vaughn said that's unlikely to happen in Indiana.

"Challenging maps on both racial gerrymandering grounds and partisan gerrymandering are very difficult cases to win," said Vaughn.

Kathay Feng, Common Cause's national redistricting director, said in a redistricting seminar earlier this month that the best way to ensure equitable representation is through long-term reforms.

"It is a long-term civic engagement, movement-building effort that we have to engage in to change the way that the district lines are drawn," said Feng.

Redistricting happens after states receive results from the U.S. Census. If they go unchallenged and unaltered, Indiana's maps will remain in place for the next decade.




get more stories like this via email
Health and Wellness
Most people probably never give a second thought to their visits to the dentist, but not everyone can navigate this process with ease. People with …
Social Issues
Christmas is a little more than two weeks away, and toy drives around the country are in full swing. A North Dakota organizer shares some things to …
Social Issues
A federal judge in Nevada has dealt three tribal nations a legal setback in their efforts to stop what could be the construction of the country's larg…

Environment
Hoosiers could get their holiday trees from any of about 200 tree farms in the state, according to the Indiana Christmas Tree Growers Association…
Social Issues
Reports from the Insurance Commissioner's office and the state Attorney General reveal an analysis of what they call "the true costs of health care" i…
Health and Wellness
The holiday season is filled with recipes passed down from years before, and feasting with family and friends. But think again before you have …
Environment
Connecticut lawmakers are reluctant to approve new emission standards that would require 90% cleaner emissions from internal-combustion engines and re…
Social Issues
Another controversial move in Florida's education system is a proposal to drop sociology, the study of social life and the causes and consequences of …