2022 SCOTUS Decision Could Change Abortion Laws in ID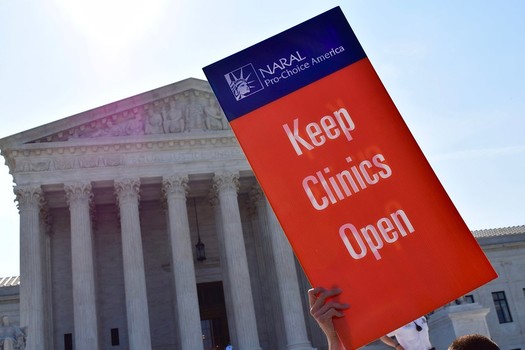 The U.S. Supreme Court is putting abortion access to the test, and decisions this year could mean big changes in states such as Idaho.

Justices have heard oral arguments on a case in Mississippi which would ban abortions after 15 weeks. They also sent a Texas case, which effectively bans abortions after six weeks, back to a federal appellate court, which will hear arguments Friday.

Mistie DelliCarpini-Tolman, Idaho state director for Planned Parenthood Alliance Advocates, said if abortion is banned in the state, the average distance to a clinic will increase from 21 miles to 250, and argued it is unfeasible for the average Idahoan.

"That is going to disproportionately affect Black, Indigenous, Latinx, people of color, LGBTQ people, young people, people with disabilities and people with low incomes," DelliCarpini-Tolman outlined. "It's going to be even harder for these communities that already have barriers to accessing health care."

About 400,000 Idaho women of reproductive age would lose access to abortion under this scenario, according to the Guttmacher Institute. If Idaho bans abortion, the organization estimates about three-quarters of women will travel to Washington state for care and the rest will travel to Colorado.

Blaine Conzatti, president of the Idaho Family Policy Center, a nonprofit Christian ministry, said the best outcome for opponents of abortion like him is the Supreme Court returns the issue to the states.

"If that happens and Roe v. Wade is overturned entirely, a 2020 law that was passed by the state Legislature and signed by Gov. Brad Little would go into effect," Conzatti explained. "It's called a trigger law, and that would ban abortion from conception with a few exceptions, including rape and incest and life of the mother."

Conzatti acknowledged even if it happened, there likely will be years-long battles in state courts to put bans into effect.

DelliCarpini-Tolman contended it is important to remind people, despite a Supreme Court which seems more favorable to abortion opponents, no decision has been made yet.

"For now, Roe is still the law of the land, abortion is still safe and legal in Idaho," DelliCarpini-Tolman asserted. "And we're going to continue to do everything in our power to keep it that way."

A decision on the Mississippi case from the highest court in the land is expected this summer.


get more stories like this via email
Environment
A new study is focused on concerns for Nebraska waterways. The three-year, independently funded research identifies rising levels of phosphorus and …
Health and Wellness
Inside a massive appropriations bill now in Congress is a provision which would allow federal funding for dental therapists. Dental therapists …
Environment
Promoting access to nature for underserved communities can improve quality of life while bolstering biodiversity and fighting climate change…
Social Issues
This holiday season, shopping at local small businesses could bring them as much as $88 billion, according to a survey from Intuit QuickBooks…
Social Issues
Minnesota's projected budget surplus now stands at more than $17 billion, and supporters of clean energy projects and other infrastructure needs say …
Environment
With Montana lawmakers looking at a large budget surplus, a group of hunters, scientists and landowners is asking them to consider creating a trust …
Environment
The Iowa Watershed Planning Advisory Council just released its annual report and said the Iowa Water Plan needs an update. The report showed climate …
Social Issues
Democrats have struggled to turn "red" rural areas "blue" across the country for years, but some left-leaning candidates won in 2022, raising the …