Groups, Nevada Government Work to Naturalize Millions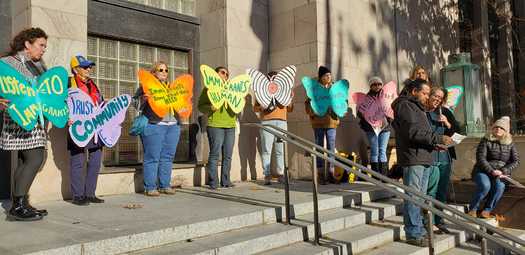 A coalition of cities, counties and more than 50 immigrant and refugee advocacy groups around the country, with a strong Nevada base, are celebrating a week of action to highlight the contributions of immigrants.

Their goal is to naturalize two million people by year's end. Las Vegas alone is home to more than 95,000 potentially naturalized U.S. citizens. "Naturalize 2 Million by 2022" is a campaign to increase citizenship and voting rights for immigrants.

Vincent Nava, spokesperson for the Nevada Governor's Office for New Americans, explained how naturalization made his participation possible.

"Proud son of immigrants, naturalized parents, and I'm truly humbled to join my colleagues in Nevada and across the United States, as we stand in solidarity with our immigrant communities," Nava stated. "One in five Nevadans is an immigrant. One in six Nevadans has at least one immigrant parent."

U.S. naturalizations rose to nearly 844,000 in 2019, up 11% from 2018. However, in 2020 the number fell by about a quarter, to roughly 625,000 new citizens, due to the COVID pandemic, according to government data.

Nicole Melaku, executive director of the National Partnership for New Americans, which represents immigrant and refugee-rights organizations in 39 states, spoke of the value naturalized citizens add to local communities across the country.

"They have access to more and better-paying jobs, including working for our state government, including running for office," Melaku pointed out. "And they invest more in local economies, the tax base, and contribute to the national GDP."

The Progressive Leadership Alliance of Nevada said newly naturalized citizens potentially represent a "New American" voting bloc which could have a significant impact on this year's election outcomes.


get more stories like this via email
Environment
A new study is focused on concerns for Nebraska waterways. The three-year, independently funded research identifies rising levels of phosphorus and …
Health and Wellness
Inside a massive appropriations bill now in Congress is a provision which would allow federal funding for dental therapists. Dental therapists …
Environment
Promoting access to nature for underserved communities can improve quality of life while bolstering biodiversity and fighting climate change…
Social Issues
This holiday season, shopping at local small businesses could bring them as much as $88 billion, according to a survey from Intuit QuickBooks…
Social Issues
Minnesota's projected budget surplus now stands at more than $17 billion, and supporters of clean energy projects and other infrastructure needs say …
Environment
With Montana lawmakers looking at a large budget surplus, a group of hunters, scientists and landowners is asking them to consider creating a trust …
Environment
The Iowa Watershed Planning Advisory Council just released its annual report and said the Iowa Water Plan needs an update. The report showed climate …
Social Issues
By Phoebe Petrovic for Wisconsin Watch.Broadcast version by Mike Moen for Wisconsin News Connection reporting for Wisconsin Watch-Public News Service …