TN Gov. Expected to Sign 'Historic' Expansion of Immigrant Workers' Rights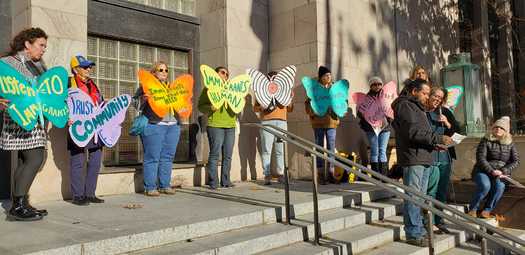 A bill on Gov. Bill Lee's desk would expand eligibility for certain types of work licenses to Deferred Action for Child Arrivals (DACA) recipients, individuals with Temporary Protected Status, and anyone else authorized to work in the United States.

Luis Mata, policy coordinator for the Tennessee Immigrant and Refugee Rights Coalition Votes, among the bill's backers, said it will allow individuals who want to work in bars, real estate, salons, medical technology and more, to obtain the credentials needed to do so.

"Being able to let Tennessee use the skills and talents that already exist here," Mata explained. "For the individuals who are going to benefit, they are able to use those skills and talents that they've trained and invested so much in."

Senate Bill 2464 was sponsored by Sen. Shane Reeves, R-Murfeesboro. The governor is expected to sign it. According to federal data, in 2020, immigrants made up 17% of the national workforce.

The American Immigration Council said more than 7,000 active DACA recipients call Tennessee home. They would be eligible for commercial or trade licensure if the bill becomes law.

Naomi, a DACA recipient and Davidson County resident, said it would allow her to follow her desired career path.

"It helps me especially by getting a better job and allowing me to work in a nursing station, and allowing me to be a nurse, which is what I've always wanted to do," She remarked.

Mata sees the bill as a sign Tennessee lawmakers care about communities making up the bulk of the state's essential workers.

"We're urging Governor Bill Lee to enthusiastically sign this piece of legislation," Mata emphasized. "And this is only the first step. We're not done yet, we're just getting started."

Tennessee is among a handful of states nationwide seeing the largest increase in its immigrant population, up by nearly 200,000 in the last two years, according to the Center on Immigration Studies.


get more stories like this via email
Environment
A new study is focused on concerns for Nebraska waterways. The three-year, independently funded research identifies rising levels of phosphorus and …
Health and Wellness
Inside a massive appropriations bill now in Congress is a provision which would allow federal funding for dental therapists. Dental therapists …
Environment
Promoting access to nature for underserved communities can improve quality of life while bolstering biodiversity and fighting climate change…
Social Issues
This holiday season, shopping at local small businesses could bring them as much as $88 billion, according to a survey from Intuit QuickBooks…
Social Issues
Minnesota's projected budget surplus now stands at more than $17 billion, and supporters of clean energy projects and other infrastructure needs say …
Environment
With Montana lawmakers looking at a large budget surplus, a group of hunters, scientists and landowners is asking them to consider creating a trust …
Environment
The Iowa Watershed Planning Advisory Council just released its annual report and said the Iowa Water Plan needs an update. The report showed climate …
Social Issues
By Phoebe Petrovic for Wisconsin Watch.Broadcast version by Mike Moen for Wisconsin News Connection reporting for Wisconsin Watch-Public News Service …