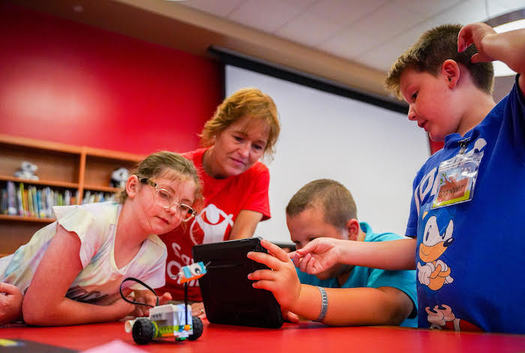 April is Child Abuse Prevention Month, highlighting ways people can help stop abuse in their communities, and at one Idaho high school, students are doing their part to raise awareness about abuse and neglect.

Madison, a senior at Eagle High School just West of Boise, said there are many ways for adults to prevent abuse.

"As much as high schools are always pushing for students to get involved in the community, adults also need to, such as joining adult clubs, like book clubs, or going to church," Madison outlined. "Just a more friendly community can help make kids also feel safe, and it just improves the living environment as a whole."

The theme for Child Abuse Prevention Month this year in Idaho is "Be a Champion for Kids." Blue pinwheels represent abuse prevention. President Ronald Reagan designated the first Child Abuse Prevention Month in 1983.

Sidney, also a senior at Eagle High School, has been raising awareness this month. She said some adults have told her they were treated harshly when they were young and, "That's just the way things were."

"Adults should open up their mind to understanding that what happened in the past isn't OK, and that as a society we're kind of moving forward," Sidney urged. "I think if adults can understand that, then the children will feel safer and less like it's their fault."

Sonja Howerton, state chapter director for the Idaho Network of Children's Advocacy Centers, has been working with students from Eagle High School and said she is proud of the work they are doing.

"They all have been phenomenal and amazing in their outreach from the very beginning," Howerton remarked. "In wanting to be a part of the solution and being a part of something that is so much bigger within our community."


get more stories like this via email
Environment
This Saturday, June 3, thousands of Californians will be among hundreds of thousands of Americans heading into the great outdoors to celebrate …
Social Issues
A coalition of Wisconsin groups is asking Gov. Tony Evers to reject bills it contends would make it harder for people struggling to get by to bounce …
Social Issues
Two months from today, Minnesota will begin the process of removing low-level marijuana convictions for those who have them on their criminal records…
Social Issues
Groups working to fight poverty in Alabama are urging state senators to approve a bill aimed at lowering food costs for families. House Bill 479 …
Social Issues
Navigating college can seem overwhelming for first generation students, but an early outreach program at Arizona State University aims to change it…
Health and Wellness
A new Nebraska law is now the subject of a lawsuit filed in the District Court of Lancaster County. In its amended form, Legislative Bill 574 …
Social Issues
A proposal from the federal government could provide a better path toward student loan debt repayment, but a new survey finds many borrowers don't …
Environment
Maine lawmakers are considering two pieces of legislation which supporters said are needed to ensure "responsible" development of offshore wind projec…