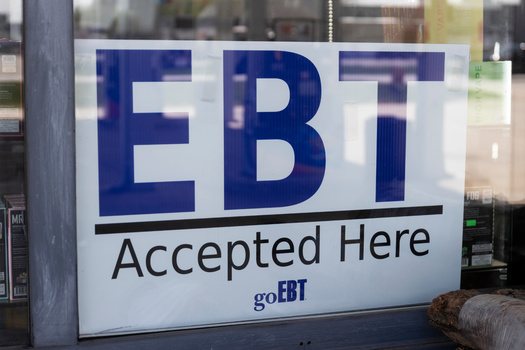 New research on hunger shows 45% of undocumented immigrants in California are affected by food insecurity, and 60% of undocumented children live in food-insecure households.

The latest figures are from the University of California, Los Angeles's California Health Interview Survey.

Groups that work to prevent hunger want to open food-assistance programs to include all income-eligible Californians, regardless of their immigration status.

Donna Yerat-Rodriguez, community liaison for the group Poder Latinx, recalls growing up poor and hungry - as her undocumented mother was unable to find stable work.

"By including undocumented individuals in food-assistance programs, it will make a difference," said Yerat-Rodriguez. "It would have changed our circumstances, and many other families as well."

The Food4All campaign from Nourish California, and the California Immigrant Policy Center support a bill to do just that. Senate Bill 464 has passed the State Senate and is now in State Assembly.

Gov. Gavin Newsom's proposed budget would expand CalFresh to undocumented people age 55 and older. Advocates want lawmakers to drop that age restriction in the final budget, which must pass by June 15th.

Opponents cite the cost considerations.

Susan Babey is senior research scientist with the UCLA Center for Health Policy Research, which administers the survey.

"Children who experience food insecurity are more likely to be in overall poor health," said Babey. "They have an increased risk for depression and anxiety, and food insecurity is also associated with lower academic achievement."

And state Sen. Melissa Hurtado - D-Sanger - said she thinks the state has a moral obligation to use its budget surplus to fight hunger.

"If we really want to have that American dream, if we really want people to thrive, food is a fundamental component of that," said Hurtado. "And if we're not providing that, then we must do better."




get more stories like this via email
Health and Wellness
Most people probably never give a second thought to their visits to the dentist, but not everyone can navigate this process with ease. People with …
Social Issues
Christmas is a little more than two weeks away, and toy drives around the country are in full swing. A North Dakota organizer shares some things to …
Social Issues
A federal judge in Nevada has dealt three tribal nations a legal setback in their efforts to stop what could be the construction of the country's larg…

Environment
Hoosiers could get their holiday trees from any of about 200 tree farms in the state, according to the Indiana Christmas Tree Growers Association…
Social Issues
Reports from the Insurance Commissioner's office and the state Attorney General reveal an analysis of what they call "the true costs of health care" i…
Health and Wellness
The holiday season is filled with recipes passed down from years before, and feasting with family and friends. But think again before you have …
Environment
Connecticut lawmakers are reluctant to approve new emission standards that would require 90% cleaner emissions from internal-combustion engines and re…
Social Issues
Another controversial move in Florida's education system is a proposal to drop sociology, the study of social life and the causes and consequences of …