College Degree Increasingly Requires Part-Time Job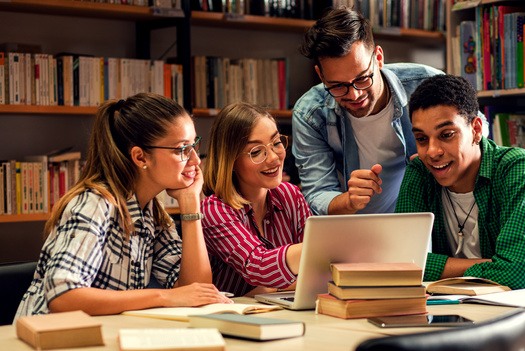 Many U.S. college degree programs can take years of full-time study, a serious time crunch for working adults. That's why more universities are offering flexible coursework options to improve enrollment - especially in rural areas.

Reporter Nick Fouriezos covers higher education in rural America for the non-profit Open Campus. He said 40% of today's college students have full-time jobs - which causes some to back away from higher education.

"The biggest issue facing a lot of rural education and a lot of rural students," said Fouriezos, "is that they haven't been given the awareness of what is available and what is actually possible for them."

Nationally, 7.5 million of the nearly 20 million college enrollees for fall 2020 were going to school part-time, according to the National Center for Education Statistics.

According to the U.S. Department of Agriculture, people living in rural areas have increased participation in higher learning over time - but the numbers have not kept pace with urban gains, especially in college and postgraduate education.

Fouriezos said with mounting student debt, tuition and living costs, more students want to see a direct connection between their initial classes and the careers they're pursuing.

"I think it's a mistake to focus too much on how can we convince people, 'This degree is good for you,'" said Fouriezos, "and instead saying, 'Hey, what are your needs and how can we meet them?'"

Because the definition of a "typical" college student is changing rapidly, Fouriezos said some institutions are exploring the idea of adding three-year bachelor's degrees.

"What we're typically finding more and more of is for rural students," said Fouriezos, "higher education really means part-time education."

Institutions exploring three-year degree programs include the University of North Texas and the University of Minnesota in Rochester.

Support for this reporting is provided by Lumina Foundation.




get more stories like this via email
Environment
A new study is focused on concerns for Nebraska waterways. The three-year, independently funded research identifies rising levels of phosphorus and …
Health and Wellness
Inside a massive appropriations bill now in Congress is a provision which would allow federal funding for dental therapists. Dental therapists …
Environment
Promoting access to nature for underserved communities can improve quality of life while bolstering biodiversity and fighting climate change…
Social Issues
This holiday season, shopping at local small businesses could bring them as much as $88 billion, according to a survey from Intuit QuickBooks…
Social Issues
Minnesota's projected budget surplus now stands at more than $17 billion, and supporters of clean energy projects and other infrastructure needs say …
Environment
With Montana lawmakers looking at a large budget surplus, a group of hunters, scientists and landowners is asking them to consider creating a trust …
Environment
The Iowa Watershed Planning Advisory Council just released its annual report and said the Iowa Water Plan needs an update. The report showed climate …
Social Issues
By Phoebe Petrovic for Wisconsin Watch.Broadcast version by Mike Moen for Wisconsin News Connection reporting for Wisconsin Watch-Public News Service …