Virginia Food Banks Seek Support Amid High Inflation, Supply-Chain Issues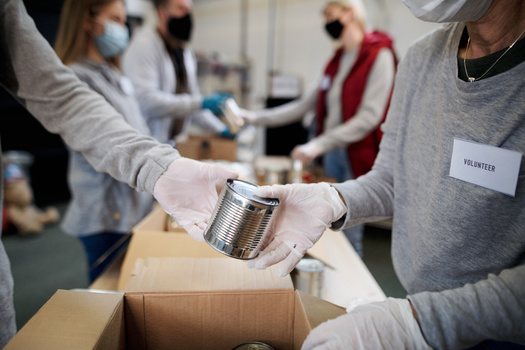 Virginia's food banks are facing a perfect storm of issues. High inflation for everyday goods is driving up food costs for lower-income families, all while food banks are working to overcome supply-chain issues to keep their shelves stocked.

Eddie Oliver, executive director of the Federation of Virginia Food Banks, which oversees seven regional food banks across the state, said since many pandemic stimulus benefits have expired, the financial reserves lower-income families built have started to drop off.

"While families are getting squeezed, they're turning more and more to food banks for assistance," Oliver pointed out. "Meanwhile, our operational expenses are going up. So it's challenging on many fronts."

Oliver noted the best way to support a local food bank is through financial support, which will help them keep up with the surge in grocery prices. According to the U.S. Department of Agriculture (USDA), grocery prices are anticipated to increase between 5% and 6% in 2022.

According to Feeding America, nearly a quarter-million Virginia children are food insecure, and nearly half of households receiving SNAP benefits have children.

On top of the supply-chain issues and inflation, Oliver emphasized the end of the school semester also will be an exacerbating factor in the coming weeks.

"School meal access is coming to an end here as schools are about to let out for the summer," Oliver observed. "Meanwhile, we're seeing the highest inflation we've seen in decades, which of course disproportionately impacts low-income families."

The USDA extended free school lunches to kids throughout the COVID-19 pandemic, but the program will end at the conclusion of this school year. The Virginia Poverty Law Center reported pre-COVID, more than 460,000 Virginia students received free and reduced-cost school meals daily.


get more stories like this via email
Environment
A new study is focused on concerns for Nebraska waterways. The three-year, independently funded research identifies rising levels of phosphorus and …
Health and Wellness
Inside a massive appropriations bill now in Congress is a provision which would allow federal funding for dental therapists. Dental therapists …
Environment
Promoting access to nature for underserved communities can improve quality of life while bolstering biodiversity and fighting climate change…
Social Issues
This holiday season, shopping at local small businesses could bring them as much as $88 billion, according to a survey from Intuit QuickBooks…
Social Issues
Minnesota's projected budget surplus now stands at more than $17 billion, and supporters of clean energy projects and other infrastructure needs say …
Environment
With Montana lawmakers looking at a large budget surplus, a group of hunters, scientists and landowners is asking them to consider creating a trust …
Environment
The Iowa Watershed Planning Advisory Council just released its annual report and said the Iowa Water Plan needs an update. The report showed climate …
Social Issues
By Phoebe Petrovic for Wisconsin Watch.Broadcast version by Mike Moen for Wisconsin News Connection reporting for Wisconsin Watch-Public News Service …