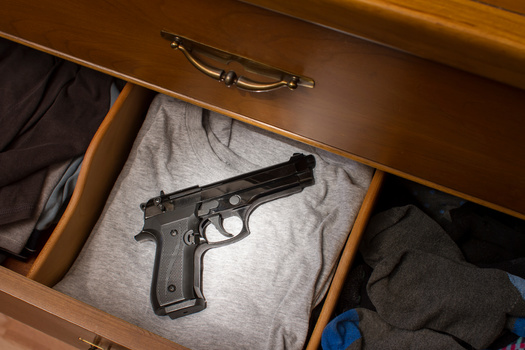 Teachers, faith leaders and parents gathered Tuesday outside the Austin office of U.S. Sen. Ted Cruz, R-Texas. They're demanding action on gun safety as part of a new "Enough is Enough" campaign by the American Federation of Teachers.

An expert in violence prevention said school leaders are reporting that the past year has been their hardest, both for behavioral problems and mental-health concerns. Beverly Kingston, executive director of the University of Colorado's Center for the Study and Prevention of Violence, said huge social stressors have created a perfect storm. They include uncertainties around COVID-19, concerns about natural disasters and climate change, the increasing polarization of society and domestic terrorism.

"There are so many answers, and so many solutions, and we are failing to put those into place," she said. "We're failing to understand what those all are as a nation, and we're failing to put those things that we can do into place."

The AFT campaign paints gun violence as a public-health issue - with not only psychological effects on kids, teachers and families, but medical consequences that strain the healthcare system.

Kingston, who has studied school shootings for decades, said research-backed solutions for decreasing school violence often lack the funds to be implemented. For example, she said, a middle-school bullying-prevention program could have helped the 18-year-old who killed 19 students and two teachers last week in Uvalde.

"If we want this violence to end, we need to be investing significant resources - I really think billions of dollars, not millions of dollars, billions of dollars," she said. "It's not a quick fix."

The reality, said Kingston, is the "horse is out of the barn" - meaning there are millions of guns in the hands of Americans and lawmakers still are stuck at policy-level discussions, rather than focusing on the motivations for why young men buy weapons for nefarious reasons.

"So, even with the very best policy, it's likely that someone could still access a gun if they wanted to," she said, "but we can make it harder - and making it harder does seem to work."

The Uvalde massacre marked the 213th mass shooting and the 27th school shooting so far this year, according to the Center for the Study and Prevention of Violence.


Disclosure: American Federation of Teachers contributes to our fund for reporting on Education, Health Issues, Livable Wages/Working Families, Social Justice. If you would like to help support news in the public interest,
click here.
get more stories like this via email
Health and Wellness
Most people probably never give a second thought to their visits to the dentist, but not everyone can navigate this process with ease. People with …
Social Issues
Christmas is a little more than two weeks away, and toy drives around the country are in full swing. A North Dakota organizer shares some things to …
Social Issues
A federal judge in Nevada has dealt three tribal nations a legal setback in their efforts to stop what could be the construction of the country's larg…

Environment
Hoosiers could get their holiday trees from any of about 200 tree farms in the state, according to the Indiana Christmas Tree Growers Association…
Social Issues
Reports from the Insurance Commissioner's office and the state Attorney General reveal an analysis of what they call "the true costs of health care" i…
Health and Wellness
The holiday season is filled with recipes passed down from years before, and feasting with family and friends. But think again before you have …
Environment
Connecticut lawmakers are reluctant to approve new emission standards that would require 90% cleaner emissions from internal-combustion engines and re…
Social Issues
Another controversial move in Florida's education system is a proposal to drop sociology, the study of social life and the causes and consequences of …