Community Action Agencies in Ohio are gearing up for what could be a busy season for cooling assistance.

The Home Energy Assistance Summer Crisis Program helps low-income Ohioans struggling to stay cool by providing money to be used toward an electric bill or central air conditioning repairs.

Jennifer Wood, director of community engagement for IMPACT Community Action, noted with Ohio already seeing several days temperatures near 100 degrees, the need is great and growing.

"We're talking about folks living paycheck to paycheck, working two or three jobs," Wood pointed out. "These are the working poor that we are looking to assist. And because of climbing gas prices and food prices, this is a really important service to provide to the community."

To qualify for the Summer Crisis Program, households must have a gross income at or below 175% of the federal poverty guidelines; about $48,000 dollars for a family of four. The program runs from July 1 until September 30.

Eligible households must have received a disconnect notice, had their utility shut off, or require central air conditioning repair. Wood explained they also can apply if their household includes someone age 60 or older, with a doctor's note stating cooling assistance is needed.

"Some of those needs would include things such as lung disease, COPD or asthma," Wood outlined. "So, eligible households can receive up to $500 if they are a customer of a regulated utility, or $800 if they are a customer of unregulated utilities."

IMPACT Community Action hosts a "Beat the Heat" event Thursday, June 30, when people can schedule appointments for the Summer Crisis Program, and get information on other resources for households in need.

Other local Community Action Agencies throughout Ohio can also help with applications. Find one online at oacaa.org.


get more stories like this via email
Social Issues
Community volunteers in New Hampshire are turning unwanted firearms into garden tools as part of a nationwide effort to reduce gun violence. Under …
Social Issues
Parents and educators in the Houston Independent School District said they are all for improving schools but do not believe a state takeover by an une…
Social Issues
The U.S. Supreme Court upheld a lower-court ruling on a 5-to-4 vote Thursday, deciding Alabama's 2022 congressional maps violated the Voting Rights …
Environment
The Bureau of Land Management has announced a $161 million investment in habitat and wildland restoration projects in 11 western states. Alaska is …
Environment
As smoke from Canadian wildfires blankets New York and much of the East Coast, it's causing a wide range of health effects - and not just for people…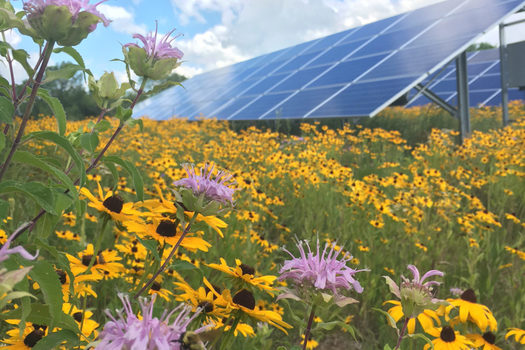 Environment
By Elizabeth Hewitt for Reasons to be Cheerful.Broadcast version by Mike Moen for Minnesota News Connection reporting for the Solutions Journalism Net…
Social Issues
To fight such pressing issues as housing shortages and increasing crime rates in cities across the country, many of the nation's mayors are taking …
Health and Wellness
As part of Alzheimer's and Brain Awareness Month, mental-health advocates in Iowa are sharing information about Alzheimer's and say two new drugs …