Wednesday, August 10, 2022
CORRECTION: The $3.7 billion figure represents an increase in education investments during the eight-year Wolf Administration, not the Pennsylvania state education budget, which is $16 billion. (1:25 p.m. MDT, Aug. 10, 2022)

After eight years, the Pennsylvania school-funding lawsuit is in the hands of the judge, creating a waiting game heading into the new school year.

The oral argument ended in July. Advocates argued the way Pennsylvania schools are funded violates the education clause and equal-protection provision of the state constitution.

Deborah Gordon Klehr, executive director of the Education Law Center, said students of color are disproportionately affected in underfunded districts in low-wealth communities, where they lack such basics as functioning school libraries and up-to-date textbooks.

"The inadequate resources prevent many Pennsylvania students from meeting academic standards set by the state," Klehr asserted. "The state legislature has an obligation to ensure that every student, not only those living in select ZIP codes, receive the basic resources they need."

Klehr added Pennsylvania has one of the widest gaps between low-wealth and high-wealth school districts in the nation. A typical high-wealth district in the commonwealth spends about $4,800 more per student than a low-wealth district, and the gap has been growing.

With trial proceedings are over, Klehr acknowledged the judge's decision may take some time, and predicted it may not signal the end of the battle.

"We are confident about our case," Klehr stated. "But whatever the outcome, an appeal by the losing side is likely, to the Pennsylvania Supreme Court."

Klehr noted the General Assembly does not have to wait for the outcome of the case. It has a legal obligation under the state constitution to solve the school-funding crisis as soon as possible.

Gov. Tom Wolf recently announced his administration had increased education funding by more than $3.7 billion since 2015, including a $1.8 billion increase for the coming school year.

Klehr emphasized it is an important confirmation of the spending levels needed in coming years.

"Those kinds of increases will need to be sustained in the years ahead to help get local districts to adequate, equitable levels of funding," Klehr contended. "And bring Pennsylvania up from the bottom in the share of education funding that is provided by the state."

Klehr stressed Pennsylvania currently relies on local funding for schools more than almost any other state. Her organization advocates shifting the funding system to recognize the very different needs of different communities.


Disclosure: The Education Law Center contributes to our fund for reporting on Budget Policy & Priorities, Children's Issues, Education, and Human Rights/Racial Justice. If you would like to help support news in the public interest,
click here.
get more stories like this via email
Social Issues
Community volunteers in New Hampshire are turning unwanted firearms into garden tools as part of a nationwide effort to reduce gun violence. Under …
Social Issues
Parents and educators in the Houston Independent School District said they are all for improving schools but do not believe a state takeover by an une…
Social Issues
The U.S. Supreme Court upheld a lower-court ruling on a 5-to-4 vote Thursday, deciding Alabama's 2022 congressional maps violated the Voting Rights …
Environment
The Bureau of Land Management has announced a $161 million investment in habitat and wildland restoration projects in 11 western states. Alaska is …
Environment
As smoke from Canadian wildfires blankets New York and much of the East Coast, it's causing a wide range of health effects - and not just for people…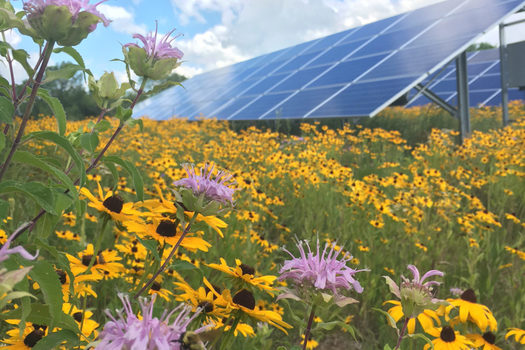 Environment
By Elizabeth Hewitt for Reasons to be Cheerful.Broadcast version by Mike Moen for Minnesota News Connection reporting for the Solutions Journalism Net…
Social Issues
To fight such pressing issues as housing shortages and increasing crime rates in cities across the country, many of the nation's mayors are taking …
Health and Wellness
As part of Alzheimer's and Brain Awareness Month, mental-health advocates in Iowa are sharing information about Alzheimer's and say two new drugs …